Thinking of updating to a unique and timeless kitchen?
The modern kitchen is far more than just a place to prepare meals. Our kitchens are evolving more than ever before and now serve as a place for cooking, socialising, relaxing and dining.
As the hardest-working room in the house, our kitchens transform how we live and entertain, so it's only natural we want to keep them looking spectacular and on-trend.
If you're searching for inspiration, look no further! From indulgent dark countertops to striking statement tiles, there are plenty of ideas to suit a variety of tastes.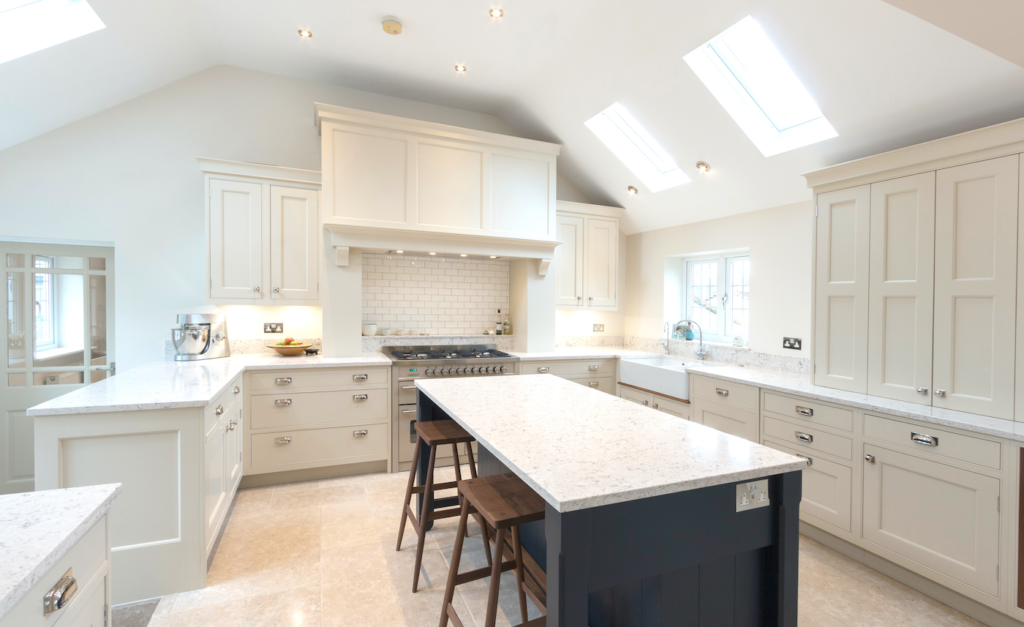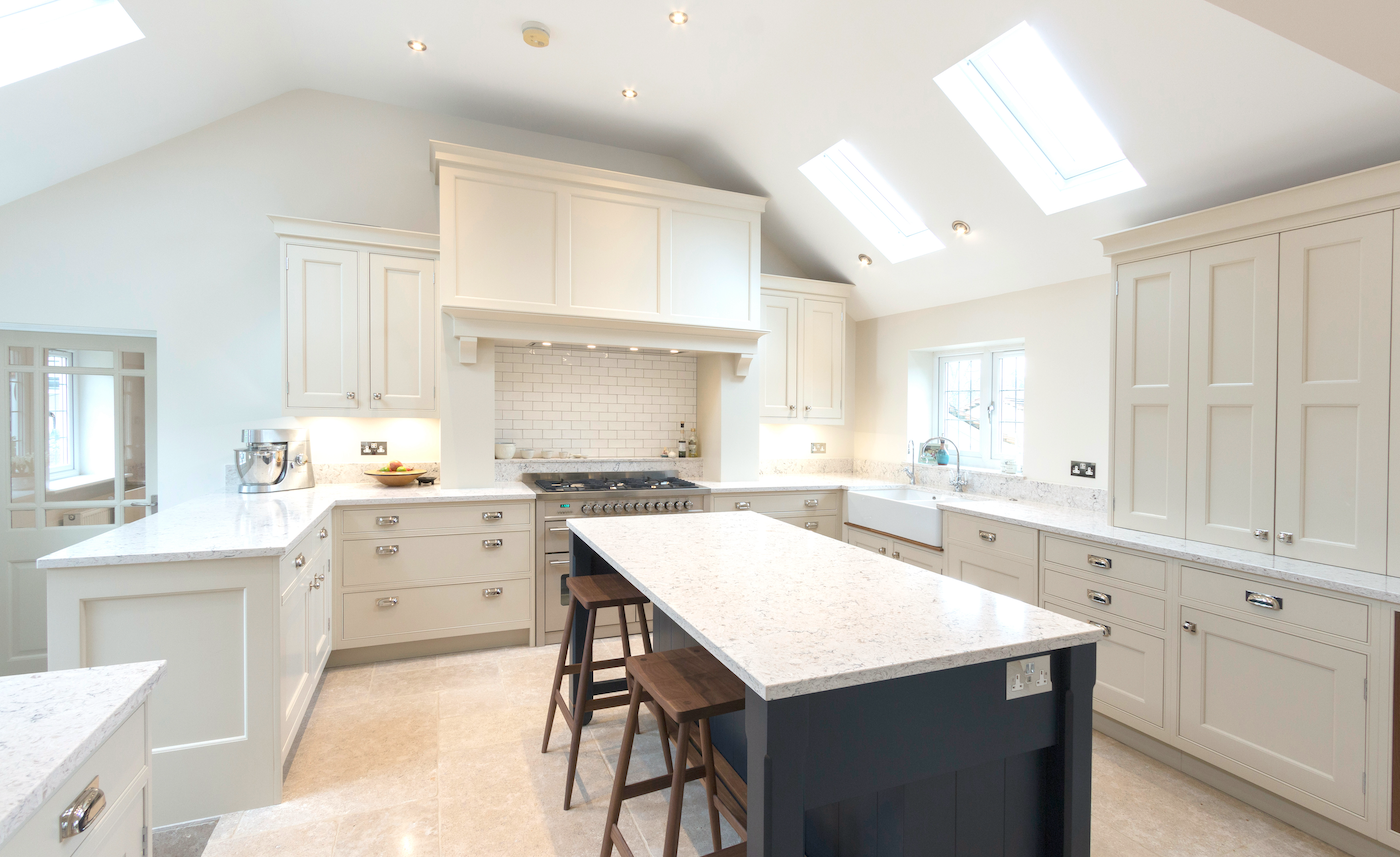 Combine Old and New with a Contemporary-Traditional Style Kitchen
Torn between the idea of a contemporary and traditional style kitchen? Combining traditional with contemporary brings a new style of its own.
Contemporary-traditional style kitchens embrace the best of both worlds. How? By balancing the comfort of a traditional kitchen space with the clean and simple design elements of a contemporary kitchen. With the charm of a traditional kitchen and the functionality of a contemporary kitchen, this popular style provides the perfect combination of old and new.
Create a statement by pairing vintage-inspired decorative lighting or an antique brass tap with simple, sleek cabinetry. Introducing traditional details into a clean, contemporary kitchen gives your kitchen a wealth of personality and turns each fine feature into a bold statement.
Check out our Pinterest board for endless kitchen inspiration!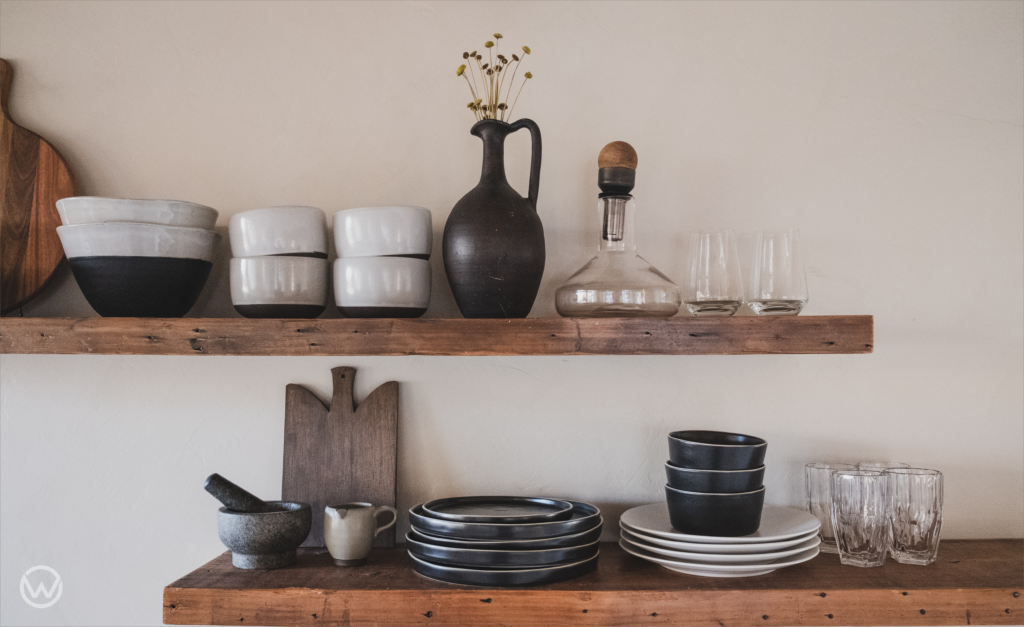 Showcase Your Unique Personality with Open Shelving
A practical way to include plenty of storage and show off all that fabulous crockery and glassware you've collected! Open shelving creates a sense of space in your kitchen and allow you to create an entirely new look. How? Just switch around your utensils!
Floating shelves made from stained or reclaimed wood give your kitchen a worthy statement with rustic charm. Add further interest and personality to your kitchen by styling your shelves with vibrant houseplants, high-tech appliances, or decorative glassware and plates. Interested in finding out the benefits of having houseplants in your kitchen? Read our blog HERE.
Open shelving is not only pleasing to the eye but allows your kitchen to be more useable and functional. You can even incorporate hanging storage with your open shelving to get the most use out of all the space in your kitchen.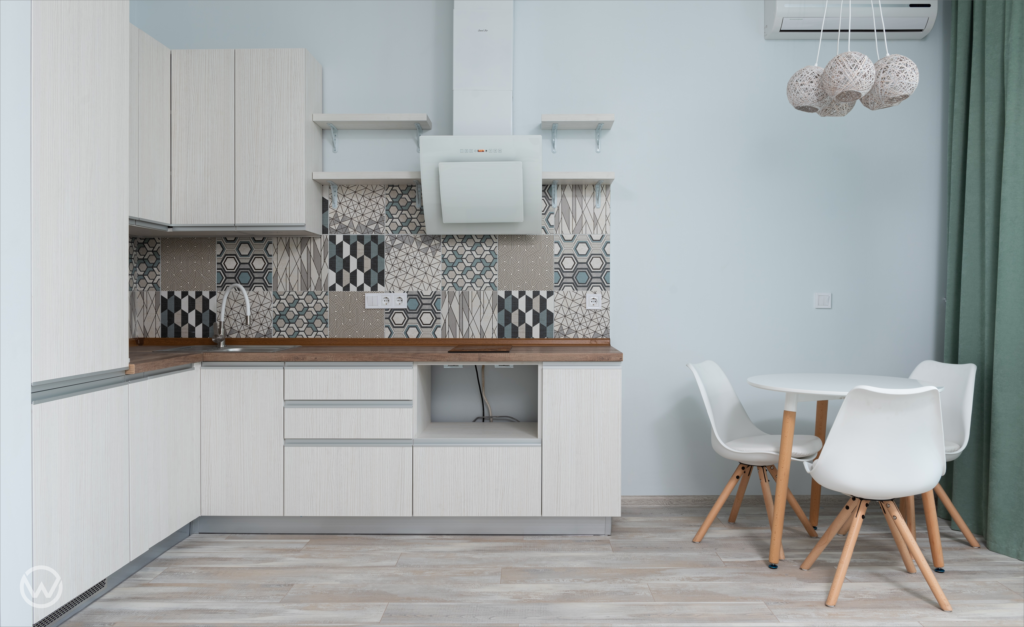 Breathe Life into Your Kitchen with Statement Tiles
2021 is the year to ditch those plain old kitchen tiles and opt for something a little more exciting! Statement tiles are everywhere this year, creating a sense of fun in your kitchen space with bold colours and patterns.
Moroccan style has become one of the trends of the year and brings a wealth of character and dazzling design features. Decorative Moroccan tiles are full of patterns and life, creating a timeless focal point in your kitchen that will never go out of date.
For an endlessly stylish yet versatile statement, opt for Terrazzo tiles. With a decorative, speckled design they are a fun way of introducing colours into your kitchen without being too overpowering. 
The Biophilia trend is bringing us closer to nature this year with lush green and vibrant blue colour schemes. Bright, glossy blue or green subway tiles make a striking statement and look even more captivating when paired with dazzling copper and gold kitchenware.
Use bold, eye-catching tiles as a backsplash in a simple-white kitchen to add charisma and an artistic flair. Go on, be brave!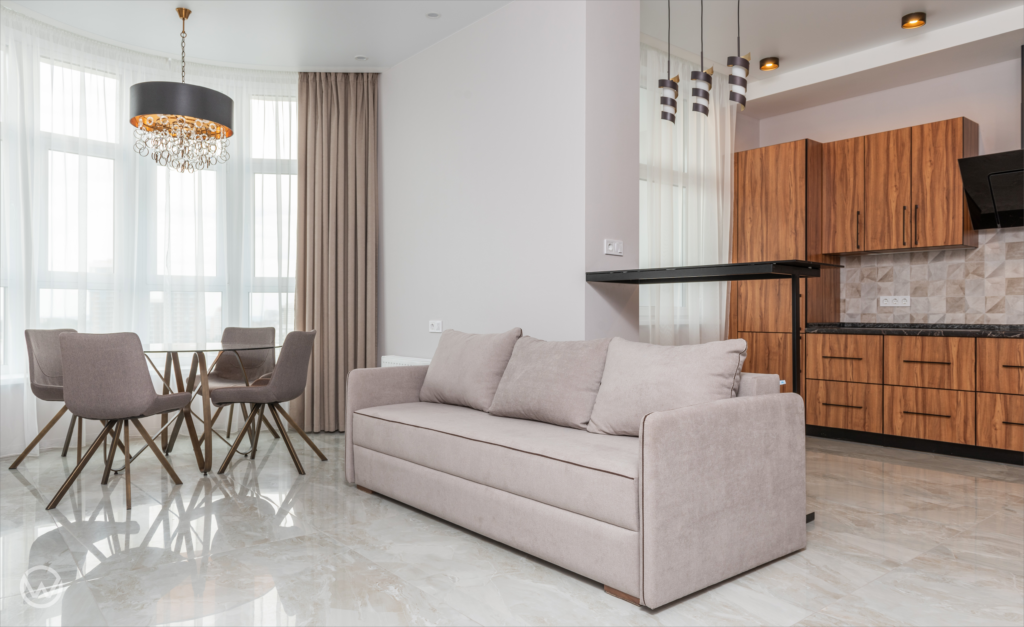 Bring Calm and Serenity to your Kitchen with a Palette of New Neutrals
Neutral, earthy colour palettes are a wonderfully fresh and light colour trend this year. Dusky pinks, soft greys and sage greens bring calming qualities to your kitchen and a sense of peace. After all, this year is all about slowing down and having time to ourselves!
Subtle, neutral shades look beautifully elegant alongside natural features such as open wooden shelving or countertops, bringing warmth and texture to your kitchen. Thoughtfully style your open shelves with colourful cookware or vibrant houseplants to add personality to your kitchen and create a bright focal point of interest.
A gentle, neutral colour scheme provides the perfect canvas for incorporating luxury features such as statement taps, high-tech appliances and eye-catching splashbacks into your kitchen. We adore using Farrow & Ball's selection of timeless neutrals in our contemporary kitchen designs!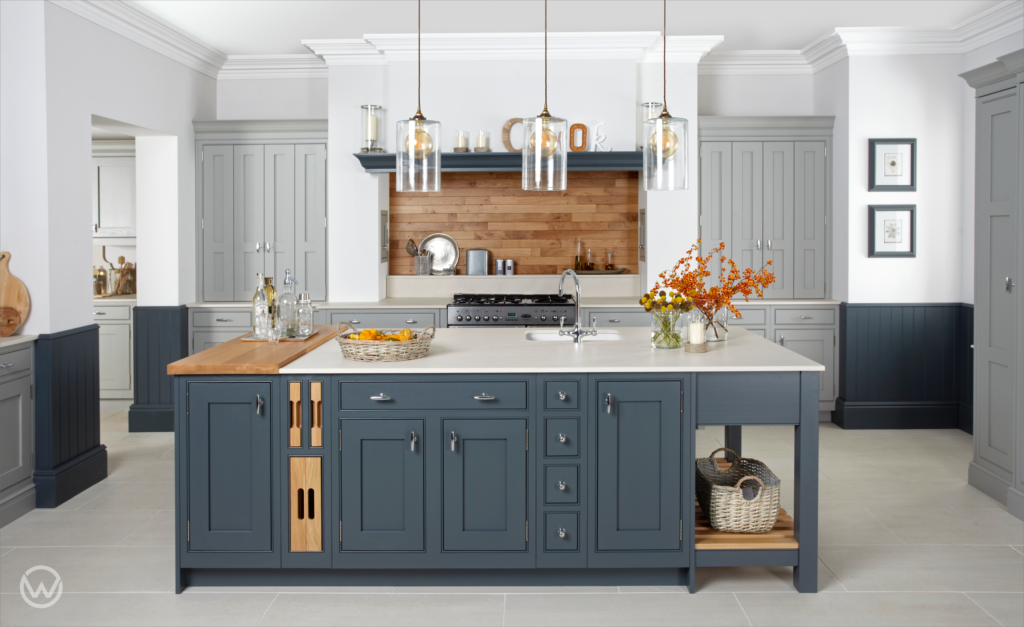 Enhance Your Kitchen with Navy Blue Hues
Navy blue continues to be a key trend for 2021! Deep inky blues and dark indigo shades capture the eye and cause other lighter hues in your kitchen to pop. Though dark and mysterious, when styled correctly navy blue can leave your kitchen feeling light and crisp.
Navy blue cabinetry works beautifully with natural stone and wood countertops, creating a sophisticated and dramatic look. Add instant decadence to your navy blue colour scheme with gold and brass finishes, or for a softer look, combine with gentle neutrals.
If the thought of having all of your cabinetry navy blue is too daunting, incorporate the two-tone trend into your kitchen and create an eye-catching focal point with a striking navy blue island. Navy blue and crisp white cabinetry is the perfect colour combination creating a sharp and elegant theme by contrasting dark and light. A Watermark favourite is Stiffkey Blue by Farrow & Ball accompanied by a beautifully neutral palette.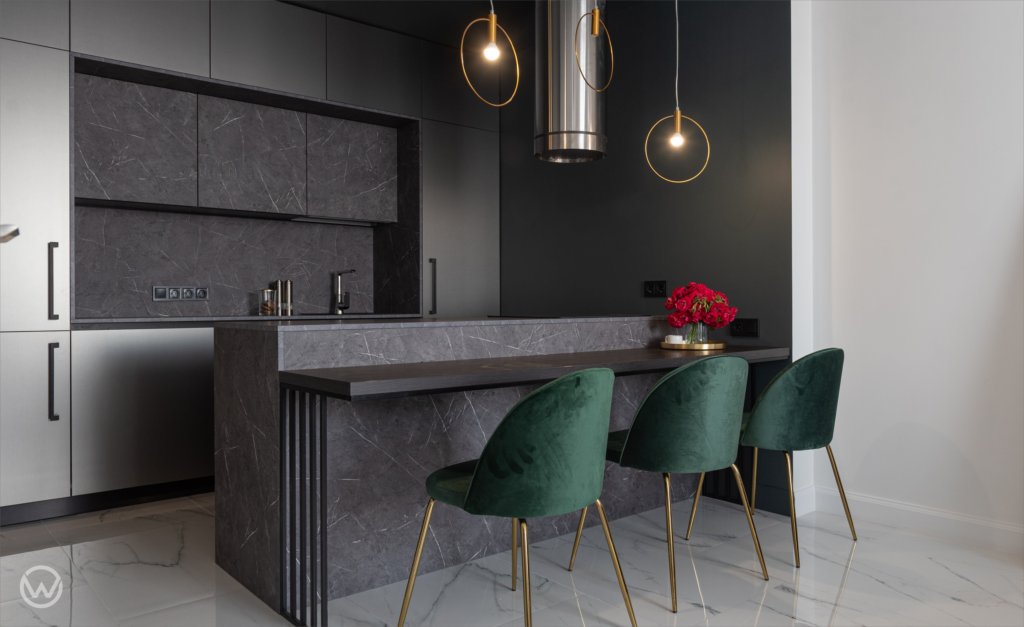 Inject Drama into Your Kitchen with Luxurious Dark Countertops
Dark countertops are on the rise in 2021! If you're looking to make a statement, dark materials such as black granite and quartz are beautifully bold and dramatic. Alongside deep-hued cabinetry or dark, textured wood they create an enticing atmosphere and sense of luxury. 
If dark cabinetry and countertops feel too indulgent for you, combine white kitchen cabinetry with captivating dark countertops to provide an incredible contrast and give your kitchen just the right balance between light and dark.
Luxurious dark countertops look particularly impressive in kitchens with exposed brickwork and open wooden shelving, giving your kitchen an on-trend, industrial flair. Pair your dark countertops with striking brass accents and high-tech, modern appliances for a sophisticated, on-trend finish.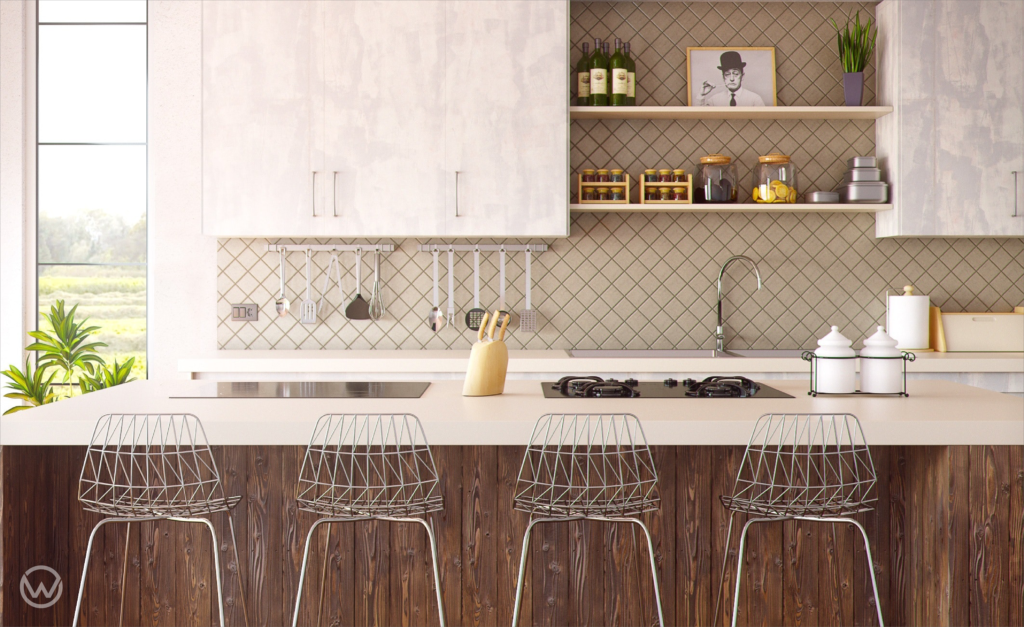 Elevate Your Kitchen Features with the Pared-Back Industrial Style
The industrial style kitchen has been on our radar for a while now – inspired by the working elements found in warehouses and factories. But 2021 is all about minimalist décor and keeping it clutter-free, so pared-back industrial style kitchens bring us the best of both worlds.
Incorporating the striking elements of an industrial kitchen with a minimalist approach enables each rustic feature to be a strong design statement of its own. Stripped-back, architectural details crafted from metal, wood and other recycled materials add a distinct sense of style to a simplistic kitchen.
This pared-back industrial style kitchen is all about partnering soothing colour palettes with artistic, mechanical elements. Features are carefully thought out and crafted from natural materials, creating an authentic, industrial statement in your kitchen without looking overpowering.
Check out our Pinterest board for endless kitchen style inspiration!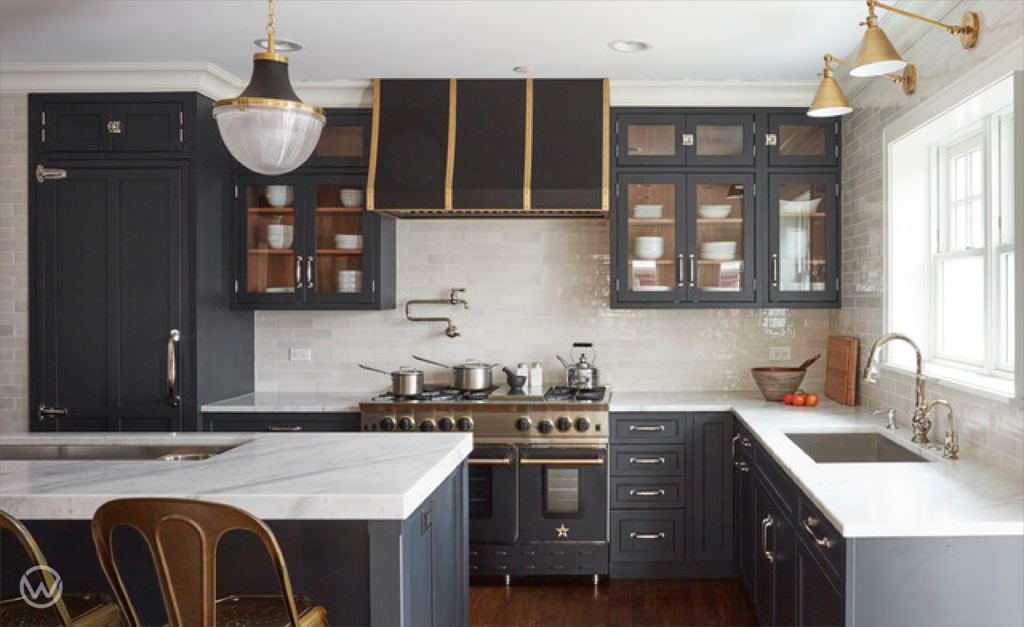 Bring Back the 20th Century with Brass Finishes
It's all in the detail! We are welcoming brass back into the kitchen this year. With centuries of use, you can be confident that your elegant brass finishes will always be timeless.
The warming tones of brass handles and kitchen accessories complement this years popular navy blue and vibrant green colour schemes. Vintage brass handles bring attention to your cabinetry and selecting brass-detailed light fixtures or kitchen appliances make all the difference in tying together the rest of your kitchen décor.
Kitchen taps are no longer just a basic need, they have now been transformed into a showpiece of their own! Statement brass taps create a focal point in your kitchen and look particularly eye-catching with white cabinetry and stone countertops.
Looking for inspiration for your kitchen or bathroom renovation? Check out our Pinterest board or follow us on Instagram!