Is there anything better than enjoying a glass of wine with guests whilst you prepare dinner?
The modern kitchen is becoming more social than ever before with island seating and breakfast bars creating the ideal space for conversing whilst cooking. There's just one thing that stands in the way! When the time comes to turn on the hob, on goes that noisy overhead extractor, blocking your guests from eyesight and drowning out all conversation.
Have no fear, we've got the solution!
Reclaim your social life and space in your kitchen with a venting hob! Not only do they look incredibly sleek and stylish, but they're also quiet, space-saving and designed to suit any kitchen layout. As the latest innovation in kitchen design, they provide your kitchen with cleaner air, a peaceful ambience and an impressive high-tech look. The perfect set-up for an evening wining and dining with friends!
Sound good? Let us tell you more.
What is a venting hob?
A venting hob is a ceramic, induction or gas hob with an integrated extractor fan that draws off steam, smoke, and oil particles directly from your saucepans. Bad smells and bacteria are drawn away and removed by a filter, preventing them from rising up and spreading around the kitchen.
Combining your hob and extractor fan means your hob doesn't need to be partnered with an overhead extractor as odours are removed as soon as they arrive – giving you that all-important space back in your kitchen.
Why should you have one?
One of the biggest selling points about this all-in-one appliance is the design freedom!
Unlike overhead extractors, venting hobs can be installed virtually anywhere in your kitchen, whether you prefer cooking in front of the window or on your kitchen island – no hood means there's nothing to block your creativity.
Kitchen islands are the hub of many kitchens, becoming more and more multi-functional than ever before. Having a venting hob installed into your kitchen island maintains that open, airy feel with no need for a bulky overhead extractor. Venting hobs are also a lot quieter than overhead extractors, so conversations around the breakfast bar never need to be put on hold.
Do you find the smell of dinner lingers in the air long after mealtimes?
With a venting hob, steam is drawn out at cooking level, resulting in fewer smells and condensation clouding up the kitchen. Fresh, odourless air in the whole kitchen!
Although they are mostly preferred by those with open plan kitchens, with the ability to create a sense of free-flowing space and light, they are a great option for those wishing to renovate a compact kitchen, their sleek, minimal design will provide a smaller kitchen with the illusion of having a lot more space.
A venting hob will require some space below the appliance to store the motor, but no need to panic, most motors can take up as little as ½ a drawer, allowing you to keep as much storage space as possible. Phew!
Maintenance
Maintaining a hob with a downdraft extractor couldn't be easier! No more time wasted climbing up the ladder to clean your overhead extractor. Most venting hobs come with grease filters that can be removed easily and in most cases are dishwasher safe.
Are you a passionate chef who enjoys splashing pasta sauce all over your hob? Don't worry! Venting hobs contain built-in reservoirs to catch spills and debris meaning your motor won't stop running after a spill. When it comes to cleaning, just simply take them out and give them a clean by hand or in the dishwasher.
Which one is right for me?
Bora Pure
A brand Watermark highly recommends! The Bora Pure is ideal for the modern kitchen with its minimalistic design. Odours are neutralised by an activated charcoal filter which can be changed from the top so no need to remove drawers, each component can be easily removed and cleaned in the dishwasher. The fan is extremely low noise meaning no interruptions when entertaining and the extractor adjusts itself according to cooking conditions saving you from having to manually adjust the settings.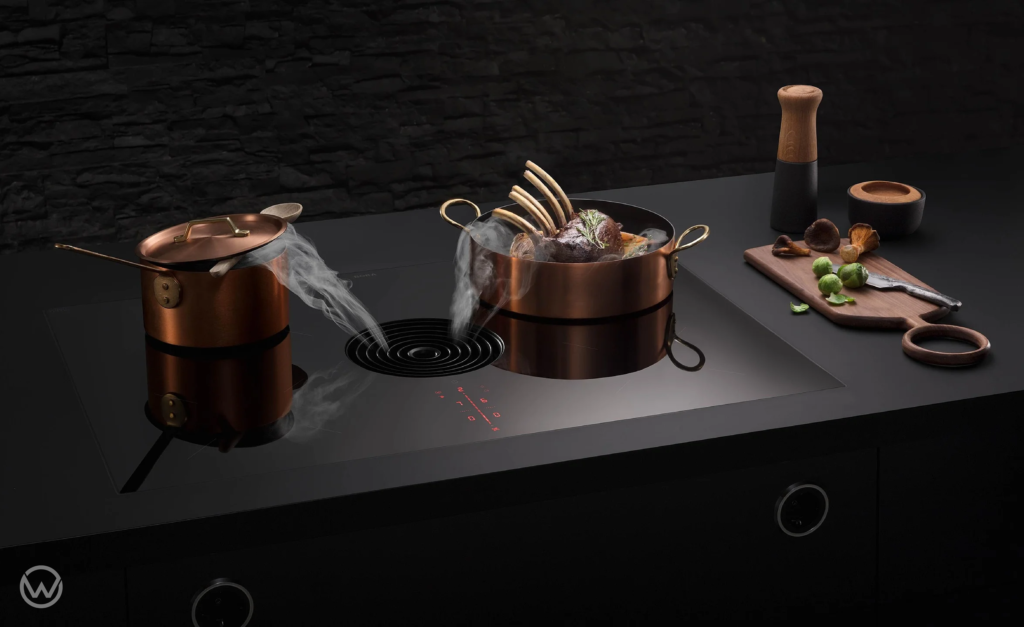 Gaggenau 200 series cooktop
The Gaggenau 200 series cooktop captures vapours and odours from a collection of ventilation, which can be controlled manually or automatically. It has been designed with discretion in mind and performs exceptionally and quietly behind the scenes. Interested in finding out more? Come down to our new showroom in Amersham where you can see this venting hob in all its glory!
Neff Flex induction
The Neff Flex induction venting hob comes with a stylish cast-iron grate placed over the hood, this doubles as a pan rest that can be used even when it's turned on. The automatic air sensor adjusts the extraction rate to match the situation in the kitchen by automatically turning itself up or down when it detects steam or aromas. The Neff Flex induction's extractor comes with 9 speed settings, automatic switch-off and a dishwasher safe vent cover.
Siemens InductionAir
The new Siemens InductionAir system unites a highly functional hob with integrated ventilation technology. With a brushless IQdrive motor it is both powerful and quiet at removing steam and unpleasant kitchen odours. The climate control sensor detects the levels of odours in the air and automatically adjusts the motor level allowing you to focus on your cooking! The Siemens InductionAir comes with a beautiful cast-iron and black glass inlet grid, which not only looks pleasing to the eye but limits the flow of liquids into the ventilation module – so no need to worry about spills!
So, is a venting hob the best option for your kitchen? Incredibly efficient with a high-tech design, low volume and easy to clean. What's not to like!
Are you looking for friendly advice on your kitchen renovation? Contact us to see how we can help!