There's a reason open plan kitchens are rising in popularity amongst home renovators in the UK. Eradicating interior walls and combining once-separate rooms not only makes it easier for home owners to maximise space and natural lighting, but it can add value to the property too. Here, we explore all the benefits of incorporating an open plan design into your kitchen upgrade, and how best to design it for maximum liveability.
Why Opt For An Open Plan Kitchen?
Eliminate Social Seclusion:
Whilst dinner parties and family gatherings are a fantastic way to spend time with your loved ones, hosting them with a small, segregated kitchen can be challenging. More often than not, whoever is in charge of the cooking is forced to take a back seat when it comes to socialising. Opening up the kitchen, however, can make such multitasking not only feasible, but enjoyable for all concerned. Removing barriers between your social space and your kitchen enables you to keep an eye on the food whilst greeting friends simultaneously, ensuring no guest (or saucepan) gets neglected.
Worried about the lingering smells of the evening's cooking permeating the entirety of your living space? Investing in the BORA hob with its innovative downdraught extractor is a functional and incredibly design-friendly solution.
Eradicating the need for a traditional overhead extractor hood, the BORA hob enables you to create your dream open plan kitchen, without sacrificing headroom or storage space, or interfering with your view. Utilising extraction built into the cooktop, the BORA is winner of numerous design awards, and it's not hard to see why. Much quieter than a conventional hood, it won't spoil your soiree – audibly, or visually – leaving you free to enjoy open plan socialising with ultimate ease.
It goes without saying that turning two smaller, cubicle rooms into a single larger expanse adds the luxury of space to the home, without the need for an extension. A larger space affords you more room to get creative when it comes to furniture placement, as well as a brighter environment to spend time in. Without partitioning walls, any windows will now illuminate the entire space, as will any light fittings or accessories.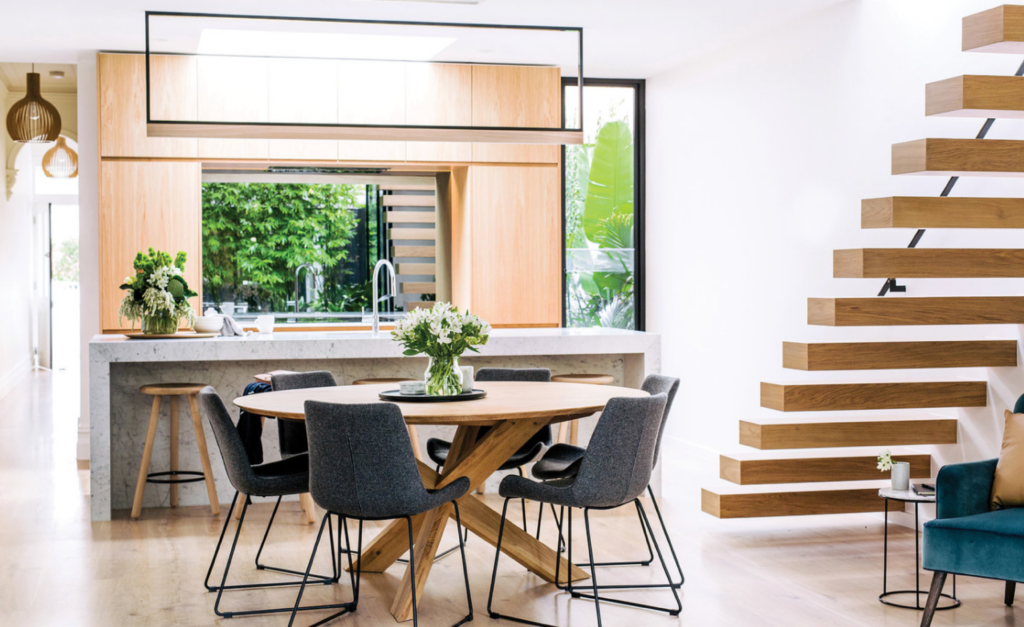 Increase The Value Of Your Home:
Opting to create an open plan space in your home can also be a fantastic way to increase its value. It costs a lot less than adding an extension, and can often be implemented without the need for planning permission. Open plan layouts help to give your home a modern, spacious look that is more visually appealing to buyers, and can increase your home's resale value by as much as 15 percent.
How To Zone An Open Plan Space Successfully:
If you're considering combining your kitchen with either your living space, dining space, or perhaps both – zoning the room is key to ensuring that you don't end up with one large expanse that doesn't really cater to the requirements of any of the rooms within. Creating clearly defined zones for various functions – cooking , dining, relaxing – enables you to enjoy the added space without sacrificing the comfort and cosiness that smaller rooms afford.
Lighting:
Lighting is a really effective way to create visually distinct zones in an open plan kitchen, without the need for physical dividers. As the hardest-working zone, the kitchen itself would benefit from recessed downlighting to illuminate worktops, as well as evenly cast ambient lighting to provide a bright workspace. In contrast, a much softer lighting effect is recommended for a relaxed seating area; you could incorporate dimmable ceiling lighting, and create a visual boundary with free-standing lamps. To add that feeling of intimacy when the family comes together at the dining table, a central pendant or chandelier here is the perfect finishing touch. Low-hanging lighting above the table also helps to highlight the table itself, whilst leaving the edges of the space dim. This will help to uniquely set the zone apart from the kitchen, without the need for physical dividers of any kind.
Boundaries:
Utilising breakfast bars, butcher's blocks and islands is another great way to create clear boundaries that divide the kitchen zone from the living or dining areas. These ensure that your standing sightline across the space is still uninhibited, whilst affording clear visual dividers between spaces for cooking, dining and relaxing. If you're working with a smaller space, these can also provide the versatility required to really make the most of every square foot. Kitchen islands that work to divide the functional side of the space from the social side can also double up as breakfast bars, providing useful seating, and becoming the social hub of the family home.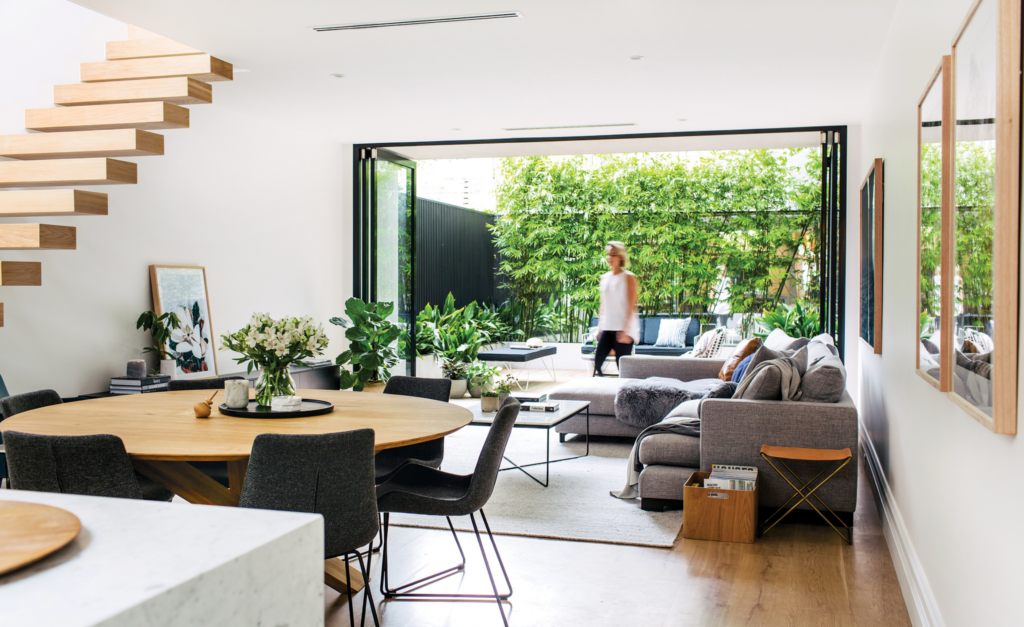 Walls:
Creating an open plan space tends to be all about the removal of walls, but this can be executed cleverly to provide the perfect balance of space and functionality. For example, leaving half a wall in situ to partition the kitchen from a lounging zone can provide the perfect visual barrier, inhibiting the view of kitchen worktop clutter from one side, as well as providing space for wall-mounted storage on the other.
Flooring:
Flooring is another fantastic way to zone an open plan space without compromising on floorspace or clear lines of sight. Opting for a hard wearing, easy-to-clean flooring in the kitchen and dining zones doesn't prohibit you from adding a softer, cosier flooring in more relaxed living spaces. You can be as subtle as you like with the transition – whether a large centrally placed rug zones a snug area, or a delineated carpet provides a clear distinction between kitchen and living space. You could also consider changes to floor levelling, by incorporating a step up or down from one space to another. Of course, you'll need to bear the feasibility of this in mind and consider the practicality of moving from zone to zone carrying plates or serving drinks, etc.
Whether you're keen on embracing open plan living, or still have reservations about abandoning the smaller hideaways that you're used to, there's no denying that open plan spaces are a fantastic way to combat increasingly smaller new builds and alienating floor plans to maximise the space we already have.
How To Ensure Your Open Plan Layout Is A Success:
When it comes to designing the open plan kitchen of your dreams, it's crucial that you take the time to carefully consider how you – and the rest of the family – will move through the space. At Watermark, we understand how important it is to achieve a natural flow that reflects the way you cook, eat and relax together, to ensure your open plan design works for you.
Have an idea you'd like to explore? Get in touch with our design team today, and we'll help you create a cohesive, beautiful space to enhance your home, and transform the way you live your life.