In the first instalment – which you can read right here – we took you through the preparatory half of your new kitchen itinerary, from your very first design discussion, through to the order and manufacture of the kitchen of your dreams.
Here, we pick up right where we left off: with your new kitchen finalised and ordered, work begins in your home to remove the old, and prepare for installation.
6// Out With The Old: Removal And Preparation Works
Whilst your new kitchen is being manufactured, work will begin on preparing the space for its fitting. Typically this will take one day, and you will need to ensure that all your existing cupboards have been emptied and free-standing furniture has been removed, beforehand. Remember to keep essential appliances and crockery handy for use elsewhere in the home, during your kitchen fit. No one wants to be separated from the kettle and their favourite mug for the duration of the project!
Your construction team will begin by removing your existing kitchen, including your old worktops, cupboards, sink and taps, as well as appliances like ovens and dishwashers.
Remember, if you are replacing old appliances with new, or your existing cabinets are still in good condition, you could consider selling these on to help offset some of the cost of the new kitchen.
Kitchen Removal Time: Expect this to take a day.
Once the old kitchen is out of the way, tradespeople (including your plumber and electrician) will begin their work ensuring that your electrical points and water supply will be correctly located, to accommodate your new kitchen. This could involve moving or extending your water supply if the sink is to be relocated, as well as wiring in additional sockets, and preparing your gas supply if you've opted for a gas hob or range cooker.
Once the tradespeople have completed these tasks, it's likely that there'll be the need for some patching or plastering of walls, to repair any damage caused by the removal of fitted units, or the re-routing of wires or pipes.
With all repairs complete, the empty kitchen will then be decorated and, if you have opted for new flooring, now is the time to have it fitted, whilst the room is bare.
Preparation Works Time: Varies according to the size of the space, and the level of works required; expect anything from 1-3 weeks.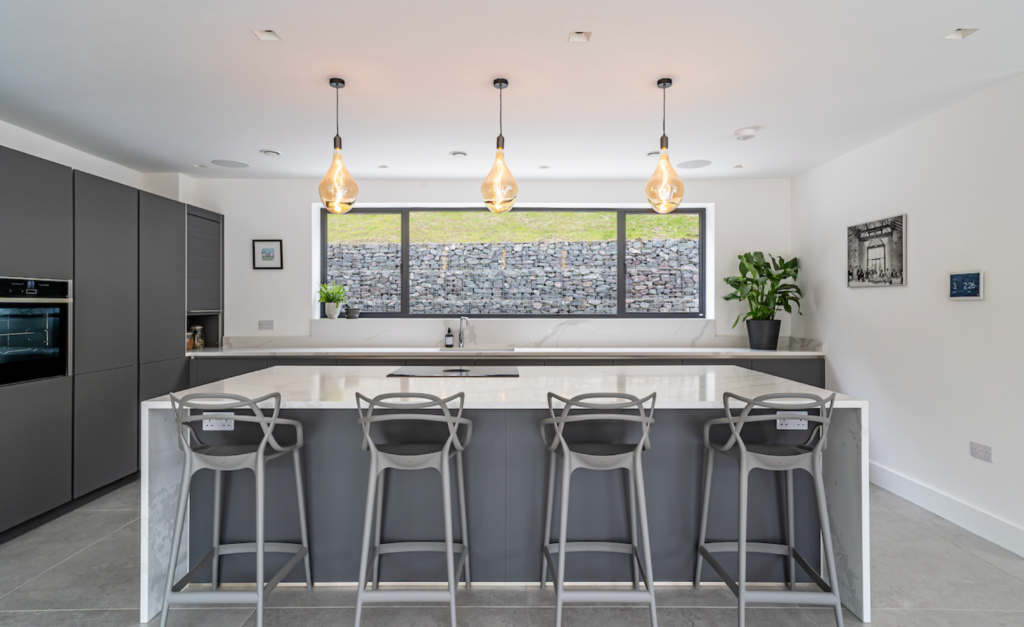 7// Let's Begin: Kitchen Delivery Day
Your new kitchen will be delivered either the day before the kitchen fitting begins, or on the morning of the first day of your kitchen installation.
Time: 1 hour.
8// It All Comes Together: Kitchen Installation
Now, all the groundwork has been completed and your space is ready for installation to begin. Your kitchen cabinets will be fitted first – both the base and the wall units – along with your selected appliances. The handles to all the doors and drawers will be fitted at this stage, bringing functionality to your beautiful new kitchen storage. Worktop fitting will depend upon your selection; if you opt for a wooden or laminate worktop, this will be the last item fitted by your kitchen fitter, however if you choose to incorporate a stone worktop, this will come later.
Time: 1-2 weeks
9// For The Perfect Fit: Stone Worktop Templating
If you are having a stone worktop, a member of our specialist stone fabricating team will visit to measure and template your kitchen as soon as the installation of all the cabinetry has been completed. Whilst on site, they will detail the positions of your sink, taps, hob cut-out and any other worktop detailing, to ensure an accurate finish for your tailored design.
Time: Half a day.
10// Exclusively Yours: Worktop Fabrication
These measurements will then be taken offsite, for our specialist team to utilise them in the fabrication of your bespoke stone worktops. Perfection is on its way…
Time: 7-10 working days
11// Functionality Restored: Worktop Installation
Once your worktop is ready for installation, you can expect a return visit from the team, who will then fit it atop your cabinets.
Time: Approximately 2-3 hours, depending on kitchen size.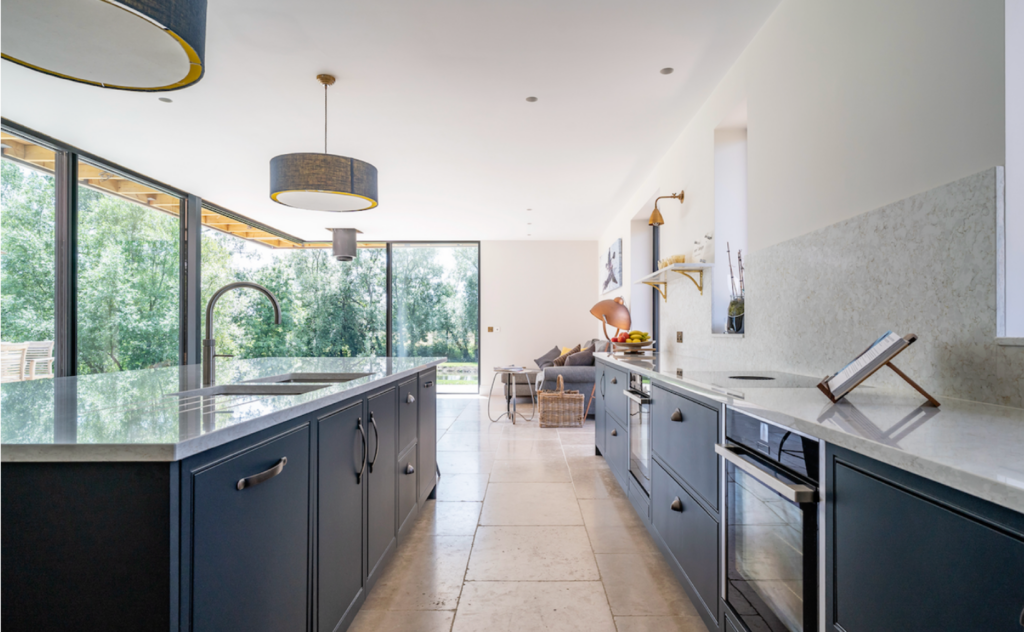 12// Designing Your Decor: Wall Tiling
Now your kitchen is in place and your worktops secured, it's time to beautify the space. Strategically placed tiling or splashback installation is a great way to provide heavy duty areas with a little more protection than simply painting the wall can provide, whilst also giving you the opportunity to get creative with your colour scheme. Fitted worktops will give your tiler a straight level to tile from, so you can be sure of a perfect finish.
Time: 2-4 days.
13// Functional Finishing Touches: Plumbing & Electrical Connections
Now it's starting to feel real. Your dream kitchen is almost complete, and you can practically taste that celebratory glass of fizz – it must be time for the final finishing touches from your plumber and electrician. This will be your concluding visit from the tradespeople who've been taking care of the plumbing, gas and electrical aspects of the project. Think socket installation, new lighting installation, and the connection of all your favourite kitchen assistants, like the dishwasher and the washing machine. At this stage, if you have opted for a gas hob, it will be connected, tested, and you should receive your gas safety certificate.
Time: 1-2 hours.
14// Kitchen Complete: Celebrate A Job Well Done!
This is the moment you've been waiting for… those weeks of toast and take away food all feel worth it now! Your perfect kitchen is no longer just an idea on paper, but a room for you to live, cook and entertain friends and family in, for years to come.

At Watermark, we understand how living with the disruption of a kitchen renovation can be stressful, which is why we endeavour to make the whole process as transparent as possible from start to finish. Being aware of the timeline involved – and what to expect at each stage – is a fantastic way to prepare yourself for the interruption to everyday life, and ensure you transition from old kitchen to dream come true, as seamlessly as possible.
If you think now's the time to transform your kitchen space and would like our help, get in touch with your team today, here.