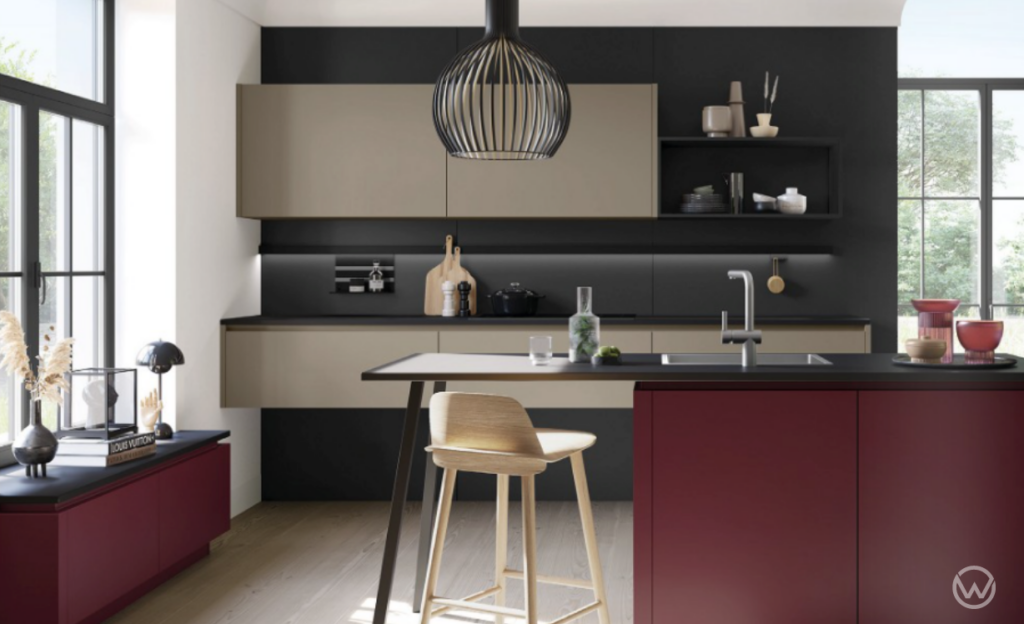 When the heart of the family home is also its hub of functionality, creating a space that combines poise with performance is one of the biggest challenges a kitchen poses. With so many hard surfaces in one room – worktops, cabinetry, flooring and appliances – turning the room into a warmer, more welcoming environment requires careful consideration. At Watermark, we celebrate brands that embrace the challenge, which is why we're shining a light on the stunning new burgundy release from kitchen manufacturer, Häcker.
Häcker's low maintenance, high quality kitchen ranges provide the perfect opportunity for homeowners to get creative with their kitchens, and their newest cabinetry colourway is no exception.
A sumptuous hue, this beautiful burgundy exudes elegance, whilst also providing the perfect opportunity to create a kitchen with bold visual appeal. A deep and powerful shade, we adore the regality the burgundy cupboard affords the kitchen space.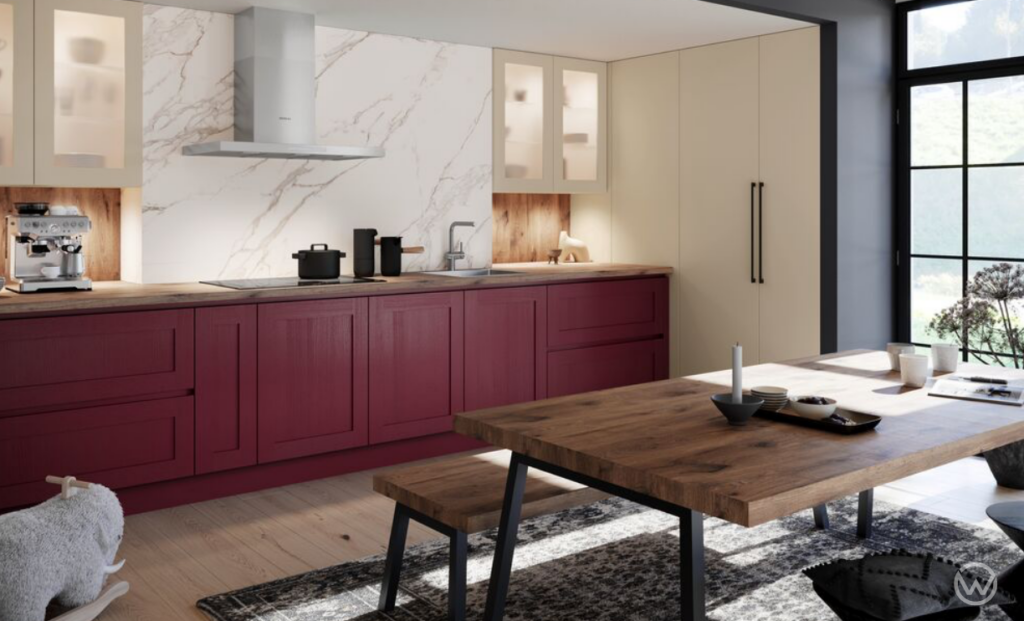 Why Choose Hacker?
A company that understands the importance of creating kitchens with character, Häcker considers more than just visuals when it comes to composing your kitchen experience.
A kitchen manufacturer committed to sustainability, Häcker delivers a fully carbon-neutral production process, is committed to using eco-friendly packaging, and has been awarded carbon-neutral company status by the DGM.
As well as supporting reforestation projects alongside wind and hydro power initiatives, Häcker also strives to lead the way in the field of healthy kitchen furniture, with its own PURemission air protection system, which means that all Häcker wooden materials are certified as reduced formaldehyde.
Their PUResist water protection system also means that, thanks to Häcker's unique edge bonding technology that is entirely solvent-free, your kitchen will offer the highest levels of resilience and sustainability combined.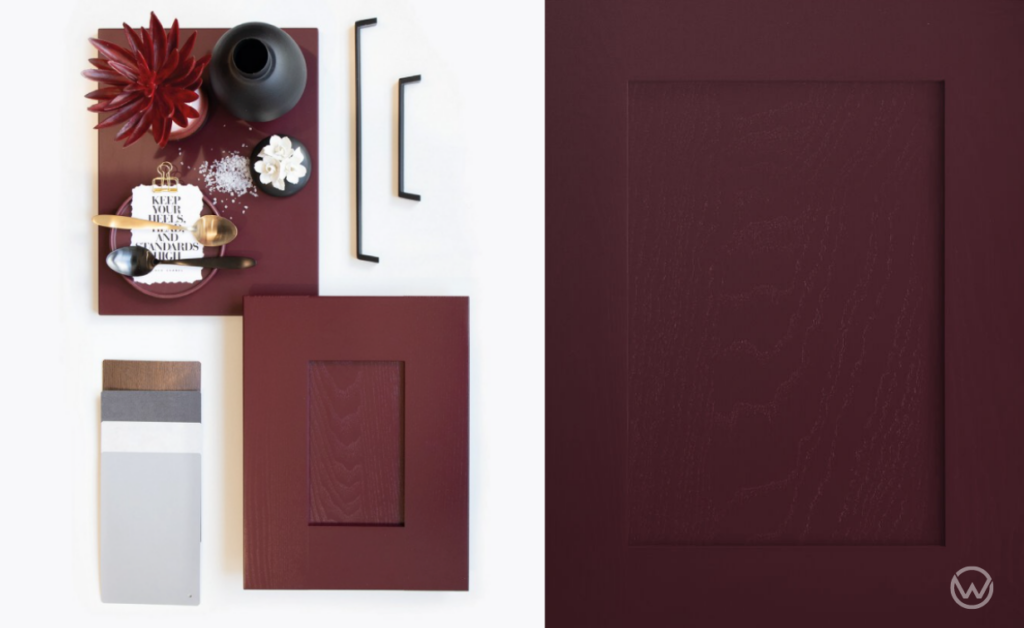 Why Choose A Burgundy Kitchen?
Colour is a fantastic way to dramatically transform any space in your home, and the kitchen – more often than not, the heart of the family home – is a fantastic place to begin. As the time we've all spent at home has increased, bringing warmth and comfort to our interiors has become a priority, and this revivifying burgundy option provides the perfect way to create a truly inviting environment.
A colour that boldly claims its place in nature – many flowers, leaves and fruit shine in this warm shade of red – burgundy lends itself to subtle pairing with other hues found on the natural world outside our windows. You could create an elegant colour palette by topping burgundy cabinetry with indoor plants and foliage, to coordinate a soothing and comforting atmosphere, that brings the beauty of the outdoors in.
How to Incorporate A Daring Colour Into Your Kitchen Space
Whilst brighter, whiter kitchens can be a popular way to give an impression of light and space – especially in a home where space may be limited – the total absence of any strong colour can leave the kitchen feeling more clinical than characterful. Understandably, people working with smaller spaces may shy away from decorating with dark paint or wallpaper, but there are other ways to inject colour and warmth into your kitchen, without compromising on that visual balance.
Häcker's new burgundy cabinet range enables you to make a breathtakingly beautiful statement as subtle as you please, or as impactful as you dare. A shade that radiates comfort and warmth, it could be incorporated throughout the entirety of a kitchen's cabinetry, to create a cozy and intimate atmosphere that provides a perpetually warm and welcoming space to cook and socialise.
Alternatively, your kitchen's colourway could be split, with wall mounted cabinets in a neutral shade of cream, white or grey, and bold burgundy reserved for the floor cabinets only. Discernibly connecting the two colourways with a wood-coloured worktop provides the perfect transition from daring to subdued, and enables the use of a dark statement colour in perfect balance with a lighter, brighter aesthetic. Injecting burgundy into your kitchen colour scheme in this way allows you to create an understated yet impactful balance of light and dark that is breathtakingly beautiful, without becoming overpowering.
Traditionally a colour of warmth, heat and love, it's no surprise that this deep shade of red makes the perfect choice for emblazoning the heart of the home. Reminiscent of rich pasta sauces, plump red peppers and juicy red berries, these burgundy cabinets are as appetite-inducing as they are adventurous.
At Watermark, we appreciate how big a part our kitchens play in providing a warm and comforting space for families to come together. If you'd like to discuss transforming yours with a bold splash of beautiful colour, get in touch with the team today, here.