A jaw-dropping centrepiece, show-stopping roast potatoes and a joint of meat as tender as it is tasty… if the responsibility of serving up the perfect Christmas dinner has fallen to you this year, it's understandable that you might be feeling the pressure. But embrace the challenge with a powerful sidekick, and you needn't worry about serving anything sub-par. If nervously waiting for the Yorkshire puddings to rise or apologising for soggy potatoes is an all-too-familiar experience, then it might be time to consider investing in a next-generation oven to help you deliver a roast dinner success story, without the stress.
At Watermark, we know that what comes out of your kitchen can be levelled up by what we put in it. Let us introduce you to the first of our state-of-the-art ovens, packed with features designed to make achieving culinary excellence this winter, effortless.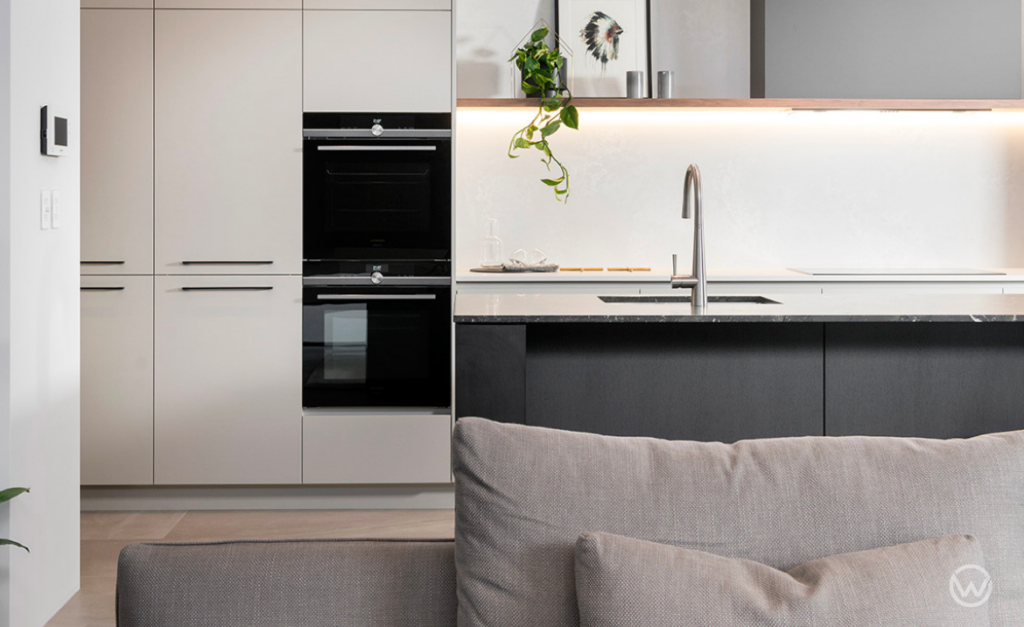 The Miele H 7860 BPX Handless Oven
Smart Technology: Stray From Your Oven Without Worry
A lot of people wish they had a second pair of hands when it comes to serving up the perfect roast dinner – there's a lot to coordinate, and so many different elements to cook. What about a second set of eyes? This stunning oven from Miele delivers exactly that, with an integrated camera in the ceiling of the oven, so you can keep an eye on what's cooking from wherever you are. Greeting guests? Opening presents? Check out how the Yorkshire puddings look at the touch of a button, for instant peace of mind and uninterrupted entertaining. The full Miel@Home system means the networking capabilities don't end there; use the Miele@mobile app to turn your smartphone into your pocket kitchen assistant, or integrate your oven with Alexa to take advantage of voice control features.
Moisture Plus: Succulent Spreads Thanks To Integrated Steam Cooking
You can forget about serving up dry, over-cooked meat with Miele's Moisture Plus feature. With the option to add time-controlled bursts of steam to your cooking process, achieving a roast joint that remains tender and juicy on the inside whilst perfectly crisp on the exterior is no longer a work of wizardry. Utilise this feature not only for delivering a splendid Sunday roast, but all manner of recipes. Want to produce an expertly baked loaf of bread that's as light and fluffy on the inside as it is perfectly browned on the outside? Miele's got you covered.
Core Temperature Cooking For Precisely Perfect Results
Of course, when it comes to cooking meat, every seasoned chef knows that no two roasts are the same. Traditionally, we rely on a mathematical formula based on the weight of the joint or bird and the temperature of the oven, to work out how long it will take to roast. Miele's wireless food probe means we can leave these calculations behind us. Stored in the oven door, this easy-to-use probe enables you to cook meat, fish and poultry with perfect precision, utilising core temperature data whilst it cooks.
Ready To Serve: Cook To Perfection Then Pause
Don't have time to serve everything up straight away? Whether you're hosting the extended family for Christmas or cooking a cozy Sunday roast, sometimes getting everything served up at once can be a stress-inducing endeavour. Take advantage of the Miele oven's rapid cooling feature, which enables you to stop the cooking process when your food is cooked… even if you don't have time to remove it from the oven straight away.
Alternatively, transform your oven into the modern-day hostess trolley, and use it to keep your food at the perfect serving temperature, until it's time to deliver it to the table. You needn't be hovering in the kitchen, ready to adjust the temperature; the motorised oven door will open and close accordingly to ensure your food is cooked to perfection – and not a degree further.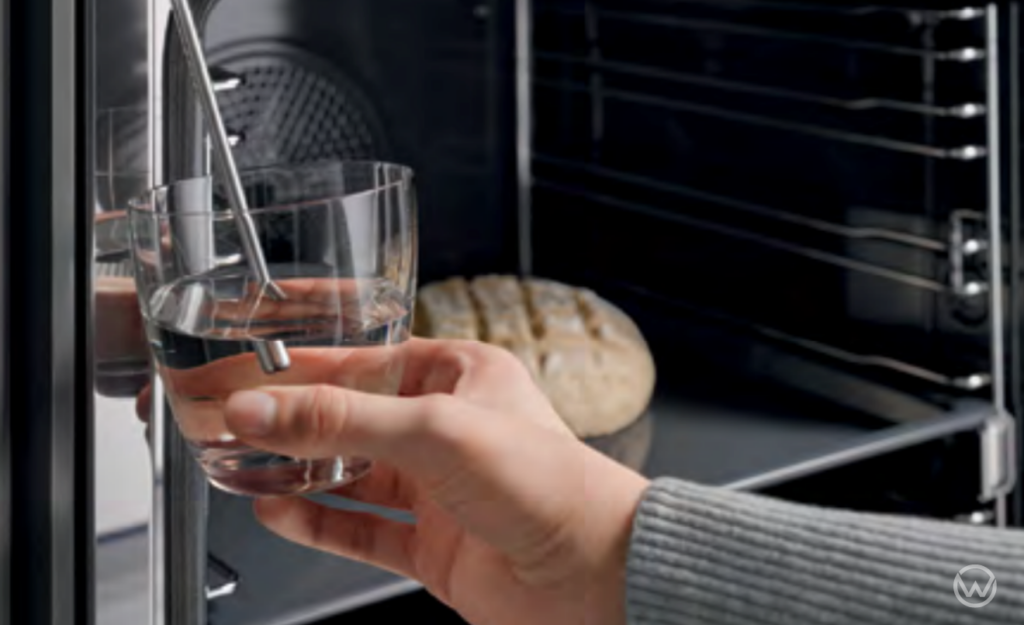 The Siemens iQ700 Integrated Oven
Home Connect: Flexibility and Freedom
Another innovative oven designed with ultimate ease of use in mind, the Siemens iQ700 makes straying from your oven stressless, thanks to the Home Connect App. Start and end cooking programmes and adjust oven settings without having to leave your sofa… how's that for an effortless dinner delivery?
4D hotAir: Comprehensive Capacity to Cook
Is the hierarchy of your roast dinner elements causing undue stress? Can't cook your Yorkshire puddings and roast potatoes simultaneously because they both need to be on the top shelf to stand a chance at success? You can forget about oven hotspots, with Siemens 4D hotAir. Featuring an innovative fan designed to move heat quickly and powerfully through the entirety of your oven's interior, the iQ700 makes every single oven shelf fair game, no matter what you're cooking up.
Steam-Savvy Cooking For Flavoursome Food
Alongside its contemporary 4D Hot Air technology, the iQ700 also offers the option to utilise steam, making it the perfect oven for delivering a restaurant-quality roast dinner. The benefits of utilising steam as part of your cooking process, include not only ensuring your food retains more flavour and higher vitamin content than conventionally cooked meat, fish and vegetables, but also making sure those day-later warm ups are just as delicious, too. You can reheat Sunday's leftover vegetables with steam, and rest assured they'll be just as crispy and flavoursome as they were the day before.
Roasting Sensor Plus: Maximum Reliability For Meat, Fish and Poultry
The Siemens Roasting Sensor Plus makes cooking with core temperature information even easier, by taking temperature readings from three separate points within your poultry or meat. This eliminates any false readings caused by hollow spaces to ensure the delivery of ultra-reliable results, that will help you present a perfectly cooked roast every single time. Eradicate nerves about cooking something new, safe in the knowledge that your oven knows exactly what's going on inside your dish, and will guide your cooking time accordingly.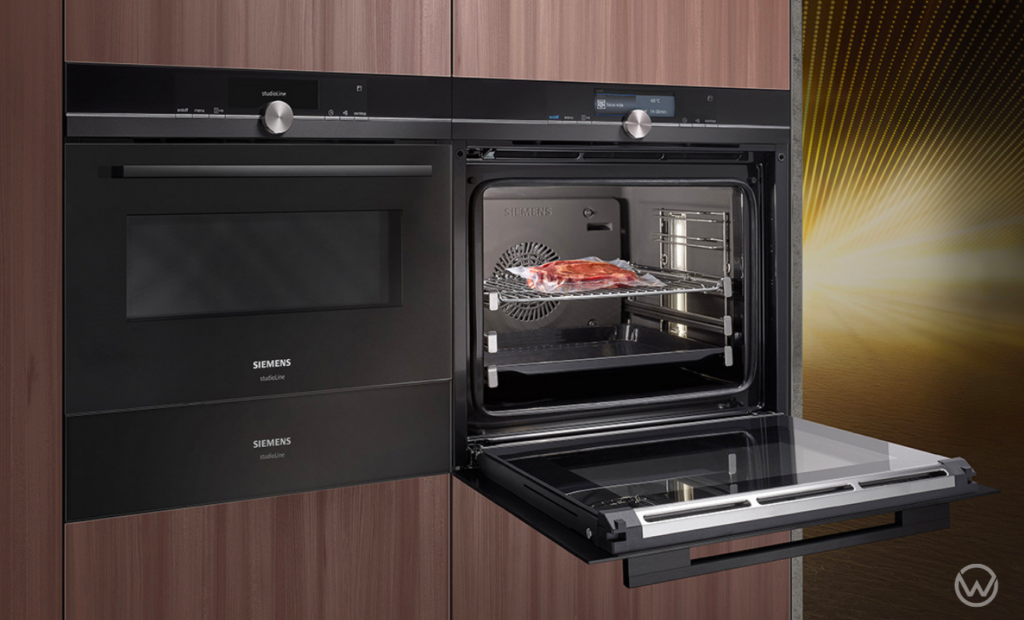 Working with an intelligent oven – that's on your side on Christmas Day – makes delivering the perfect roast dinner a far more enjoyable and effortless affair. If you're looking for an oven upgrade that's going to assist you when it comes to serving up a mouth-watering roast, key features to look for include steam cooking functionality and integrated food probe technology to help you lock in flavour and moisture and abolish the risk of overcooking, as well as as time and effort-saving features that'll help make coordinating the temperature and timing of a roast, simple.
No-one wants to spend the entirety of Christmas Day stuck to the stove… but let's not forget, a roast dinner is not just for Christmas. There's nothing heartier on a cold Sunday afternoon, than gathering the family around the table for a delicious roast. How much more often would you do it, if your oven did all the hard work for you?
Get in touch with your team today here, if you'd like to learn more about incorporating a smart oven into your kitchen upgrade.