The Sustainable Kitchen: How To Design And Build A Space That's As Eco-Friendly As It Is Beautiful
Building a more sustainable society means contributing to the development of a world in which mankind can live in harmony with the natural environment, without damaging it or exhausting its resources for future generations. The kitchen is the heart of the home! And if it's a more eco-friendly home you're striving to create, then focusing your efforts on increasing sustainability here is a great way to go about it. Taking the time to carefully consider how you can go greener during your kitchen renovation project makes integrating eco-friendly brands, appliances and materials easy. This means you're not just investing in a better kitchen, but a better, more environmentally conscious lifestyle, too.
When it comes to the kitchen, there are plenty of ways to incorporate sustainability into your renovation decisions; creating a more eco-friendly kitchen is a lot easier than you think. Below, we take you step-by-step through the stages of a new kitchen design, from selecting your cabinetry and fitting the perfect worktop, to incorporating the appliances and fixtures to help you embrace a greener approach.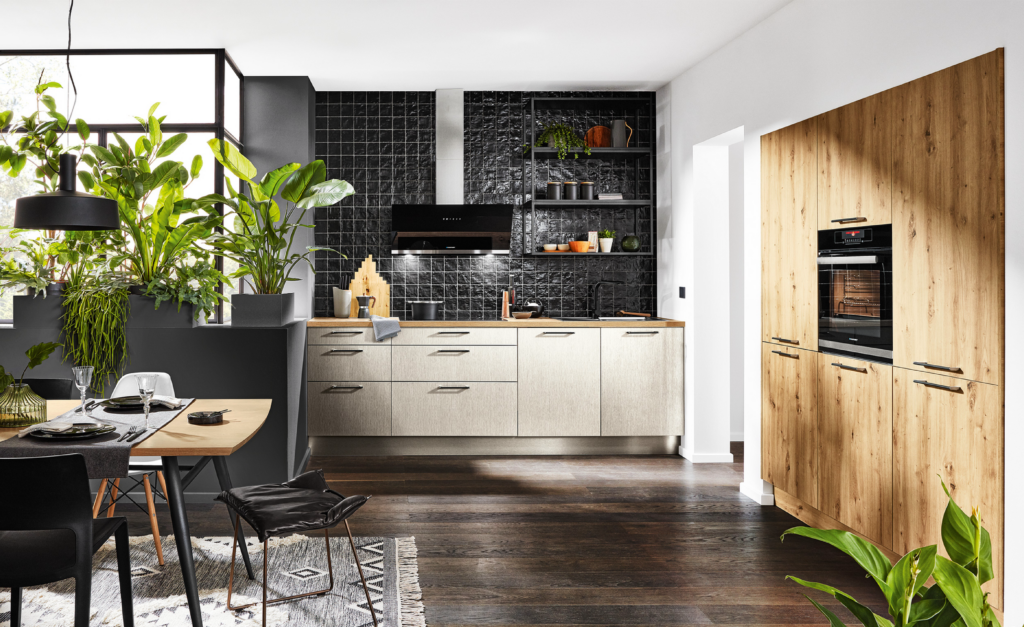 Environmentally-Conscious Cabinetry
At Watermark, we're proud to stand at the forefront of sustainable kitchen renovation alongside groundbreaking kitchen manufacturer, Häcker.
A company that takes its responsibility for the conservation of the environment incredibly seriously. Häcker are proudly committed to emission reduction, ethical waste disposal and energy efficiency as part of their long-term sustainability promise, which is why their stunning cabinetry is the basis of the majority of our designs.
Häcker delivers a fully carbon-neutral production process, is committed to using eco-friendly packaging, and has been awarded carbon-neutral company status by the DGM. Instead of the usual foam blocks, and polystyrene wraps, Häcker's transportation trailers are filled with paper and cardboard buffers to protect their cargo during transit. As well as supporting reforestation projects alongside wind and hydro power initiatives, Häcker also strives to lead the way in the field of healthy kitchen furniture, with its own PURemission air protection system, which means that all Häcker wooden materials are certified as reduced formaldehyde.
Their PUResist water protection system also means that, thanks to Häcker's unique edge bonding technology that is entirely solvent-free, your kitchen will offer the highest levels of resilience and sustainability combined, without forcing you to compromise on a more eco-friendly approach.
Proving themselves pioneers of the concept of a more environmentally responsible kitchen, Watermark are proud to work with this fantastic manufacturer to bring you an exceptional quality product without compromise. If sustainability is a priority for you, then Häcker cabinetry is the choice for your kitchen.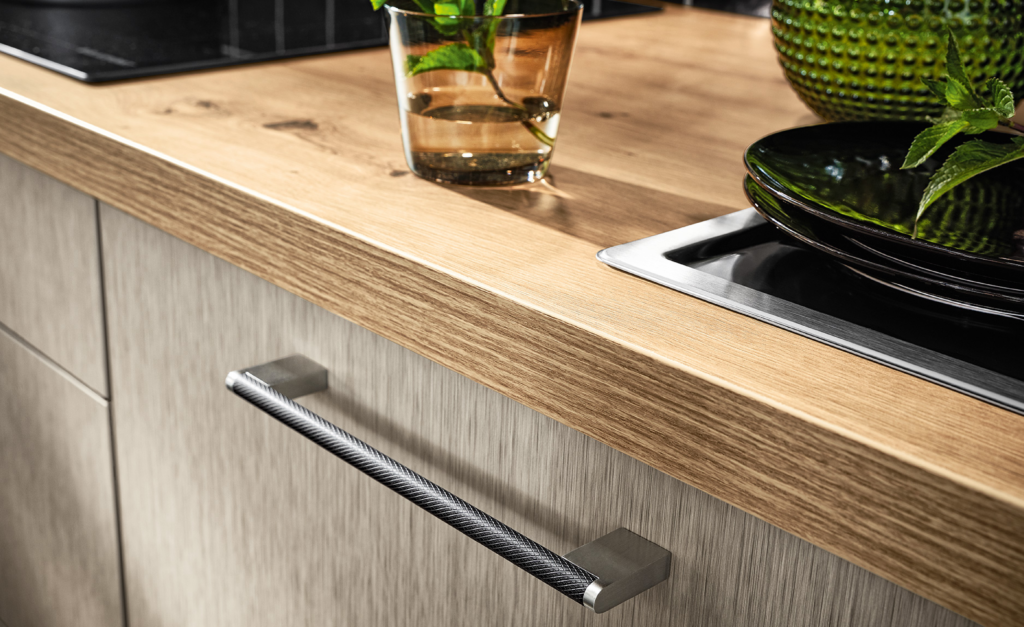 Innovative Worktops That Deliver Sustainability and Performance
With the core of your kitchen design in place, it's time to consider how best to highlight your eco-conscious cabinetry with a worktop that won't compromise your sustainable kitchen credentials.
As natural based materials, sintered stone and quartz can be relied upon to stand the test of time far greater than their laminate counterparts, meaning you will not be rushing to replace them, and creating unnecessary waste. But if you're looking for an innovative solution to incorporating a sustainable work surface into your kitchen refit, Watermark are proud to recommend cutting-edge manufacturer Stone Italiana, and their hi-tech silica free, 100% recycled composition Cosmolite worktops, designed to offer a truly environmentally friendly option in terms of both beauty and composition. Featuring inert materials other than quartz that are 100% derived from pre-consumer recycled waste, Cosmolite leads the way in material technology, and enables us to bring optimum technical performance – alongside a beautifully hypnotic textured aesthetic – to your sustainable kitchen design.
Neolith is a lightweight and durable sintered stone alternative that's also resin-free – so will not release any harmful substances into the environment – and is composed of up to 52% recycled raw materials. These are processed using intense heat to create an incredibly durable surface, making Neolith another fantastic choice to support sustainability.
If you'd like to incorporate wood worktops, look for FSC certified timber; this means the forest from which it was sourced is being managed in an environmentally appropriate, socially beneficial and economically viable way. Endorsed by the major environmental charities, including the Woodland Trust and WWF, The Forest Stewardship Council is an international organisation, dedicated to encouraging sustainable forestry, so you can rest assured that timber carrying the FSC label has been sourced responsibly.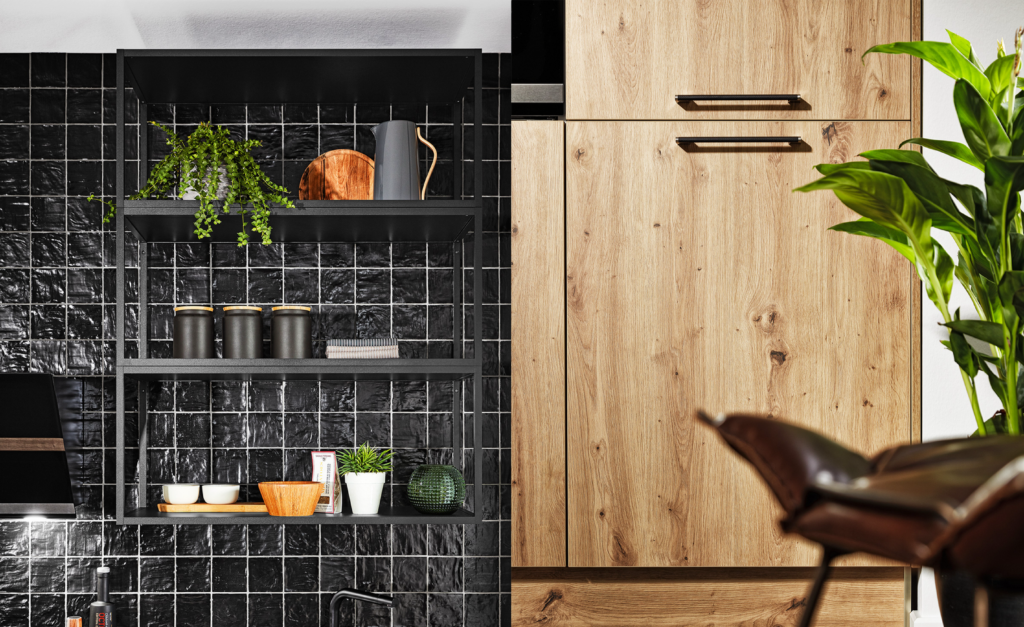 Appliances To Minimise Waste and Maximise Efficiency
When it comes to kitting out your kitchen, Watermark can help you incorporate brands who are prioritising their efforts towards environmental protection. Miele's pledge to become an industry leader in environmental protection sees the company striving to achieve zero impact on climate, with ambitious targets for resource conservation, energy efficiency, and reduction of emissions. Family-owned company, Miele, are fully committed to becoming CO2 neutral at all their locations, as part of their enduring commitment to the battle against climate change.
To safeguard the long-term availability of important natural resources, Miele pledge to maximise their efficient use of such supplies, alongside expanding the proportion of recyclable materials used, without compromising on quality.
Renowned for providing excellence that lasts, Miele stock spare parts for at least 15 years, keeping older appliances working perfectly for longer, as well as recycling metal from their own old machines into their newer ones to create a truly circular economy.
The brand's green credentials are not limited to their manufacturing process, but extend to the home, too. Miele ovens and hobs provide the ultimate in heat efficiency, operating at not a degree higher than is required, and heating only the area of the pan in use for minimum energy wastage; their washing machines are designed to minimise water, detergent and energy consumption; and their dishwashers use as little as six litres of water, alongside reducing detergent consumption by 30%.
For a truly energy-efficient kitchen, Miele leads the way.
Making A Greener Lifestyle Easy: The Quooker Tap
Of course, it's not just the materials with which we build our kitchens, or the credentials of the appliances that fill them, but also the ways in which we use the space, which can be the most impactful. To encourage a more sustainable lifestyle, households must consider their daily usage of products, packages and chemicals, and the ways in which these can be reduced to help benefit the environment.
Opting for energy-efficient, waste-reducing appliances such as the Quooker Tap – a boiling water dispenser – can be a fantastic investment in your commitment to a greener way of living.
The Quooker Tap can be combined with the Quooker CUBE and CO2 cylinder to bring the additional benefits of cold, chilled and even sparkling water to your kitchen, eradicating the need to purchase bottled water, and dispose of the single-use plastics involved. The Quooker Tap's patented pressurised vacuum tank stores water at a constant temperature of 110 degrees with minimum energy loss, meaning you can also kiss goodbye to your kettle – a common offender when it comes to energy waste. So if efficiency and sustainability are important to you, then the Quooker Tap would be a fantastic choice.
At Watermark, we strive not only to deliver the kitchen of your dreams, but to revolutionise the way you live within it. We champion manufacturers and suppliers who are embracing the concept of sustainability, and are proud to work alongside them to create greener, healthier and kinder kitchens, to help protect our future.
If you'd like more information on how we could help you create a sustainable kitchen that is both beautiful and functional, get in touch with the team today.