Dreaming of a larger, more spacious and more accessible kitchen space? But you don't currently have the square footage available to make this dream a reality?
Incorporating an extension into your kitchen renovation project could be the perfect solution. Not only does extending your property provide you with the additional floorspace needed, to add style and useability to your kitchen… but it can also significantly increase the value of your home.
Of course, planning a kitchen extension is no small endeavour. So we've compiled our best advice on everything you'll need to consider along the way. So you can ensure your project runs smoothly, and delivers everything you want it to.
Lifestyle – How Do You Currently Use Your Kitchen Space?
Before you contemplate designing your new kitchen layout, take the time to consider the ways in which you currently move through the space as it is. For example, how you utilise it to prepare meals, socialise, or spend time as a family. Does your present kitchen leave you feeling isolated from the rest of the family whilst you cook? Do you find yourself constantly wishing for more worktop capacity for food preparation? Or is it a more communal area that you dream of adding? Somewhere you can sit and enjoy a coffee, or help the kids with their homework? Once you've taken the time to establish how the space is (or isn't) being used, and how you'd like to improve this, you'll have a foundation upon which to build your wishlist.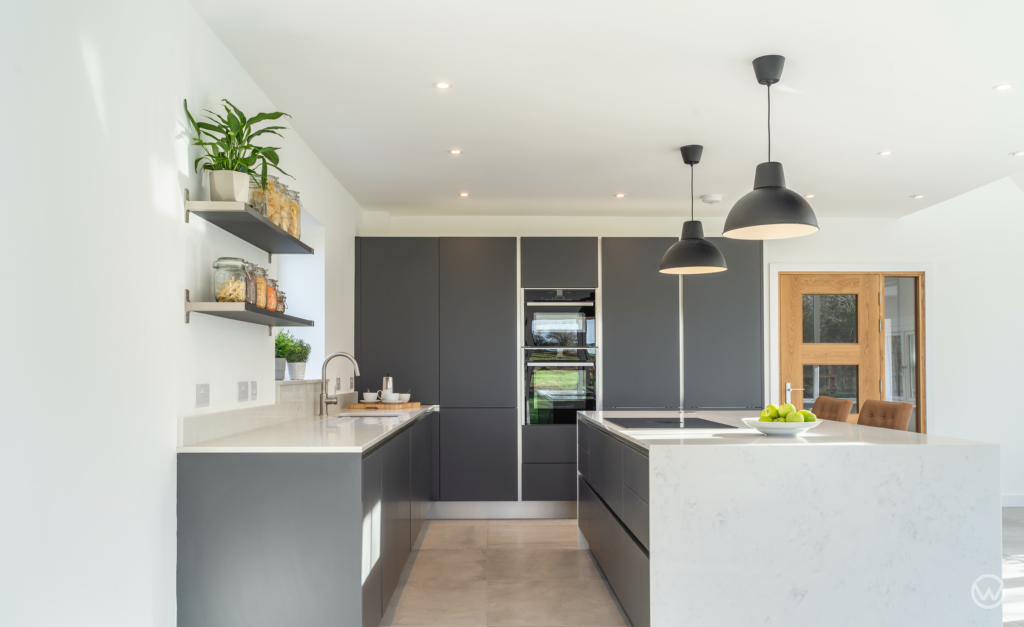 The Wishlist – What Does Your Dream Kitchen Space Include?
With clarity on how you want to spend your time within your kitchen space. You can now focus on defining what's required to bring this vision to life. Assess the existing room and create a list of the difficulties it currently presents. These could include:
Not enough worktop space for daily meal preparation
Not enough cupboard storage for kitchen essentials, leaving worktops cluttered
No communal space for other family members to gather or socialise
Poor lighting / not enough natural light leaves the kitchen dark and gloomy
Noisy appliances – like washing machines and tumble dryers – make tranquillity hard to come by
With a list of the problems you'd like to address. It's far easier to ensure that your kitchen extension design delivers everything that it needs to.
For example, if your kitchen is currently dark and poorly lit. You might consider an extension that allows for rooflights, large patio doors, or plenty of glazing. You may wish to adapt the layout so that the places you spend more time. Such as near the sink, or at a seating area. Which are repositioned to make the most of window views and natural sunlight. If you currently feel isolated from the rest of the family when preparing meals. You might establish that a more open plan layout is the best option for you. Removing interior walls to combine rooms not only makes it easier to improve the sociability of a space. It can also help you to maximise floor space and natural lighting. You can read more about the benefits of an open plan kitchen in our article, here.
Perhaps extending the kitchen would enable you to create a separate utility area. One where the washing machine and dryer can be relocated to. Or provide a walk-in pantry that doubles your storage space, enabling you to keep worktops clutter-free. Could incorporating an island or breakfast bar help to transform the kitchen from a solitary space to the social hub of the home?
With a wishlist of problems that need to be resolved, and how you'd like to resolve them. You can now prioritise what's most important to you. Determine which aspects of your extension project are non-negotiable, and which may provide a little wiggle room, if required. This will help when it comes to the next stage: setting your budget.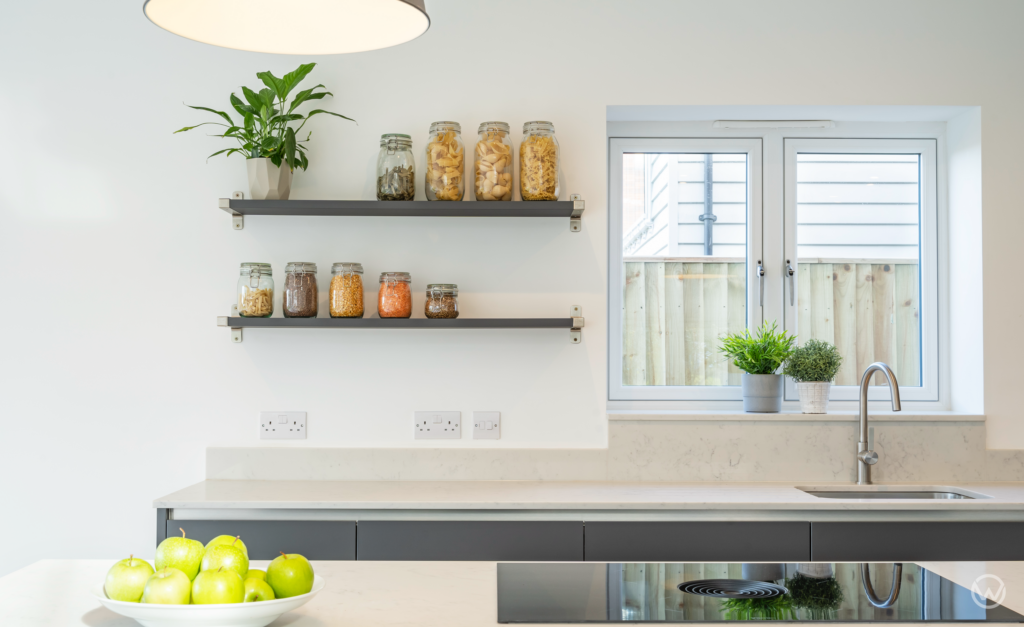 Budget – How Much Do You Plan To Spend On The Project?
Setting a realistic budget before an undertaking as big as a kitchen extension is crucial. There are many variables that could affect the cost of the project. Including complexity of the structure, architecture fees and required building regulations and restrictions, to name a few.
Aside from the kitchen itself. You'll need to budget for all the trades required to fit it and ensure its functionality. Including builders, plumbers, and electricians. When you've costed the work involved, be sure to add an additional contingency budget. This will allow for unexpected costs that will arise. Allowing flexibility at this stage ensures that you have the capacity to deal with any amends or additions to the original plan further down the line. Without it having a negative impact on the project as a whole.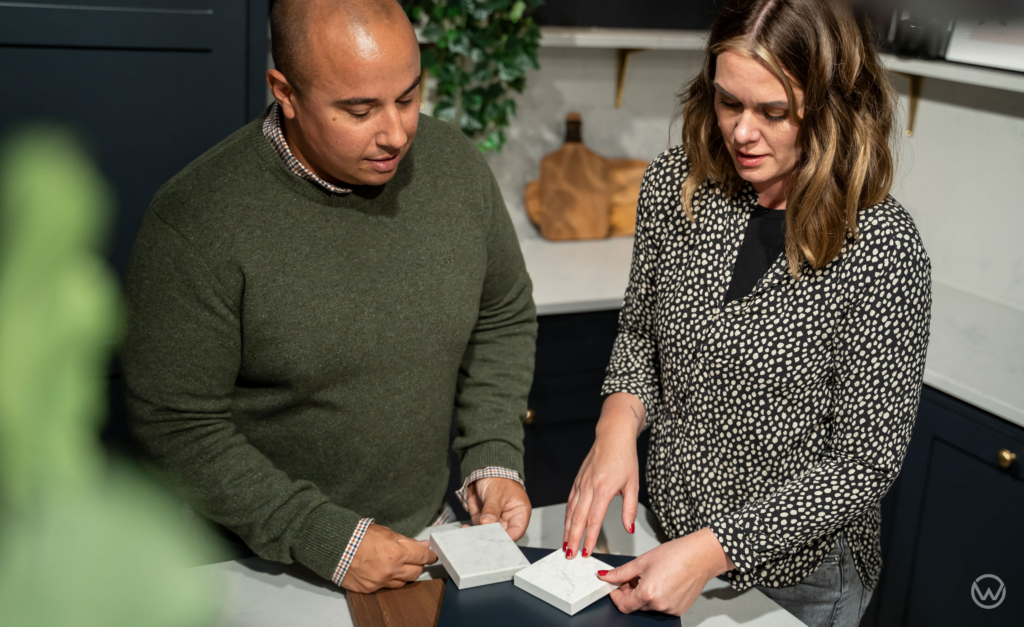 Be Guided By The Experts – Explore Every Design Opportunity
At Watermark, our team of talented designers are ready to help you conjure up a kitchen that delivers everything you're dreaming of. With your wish list at the ready and a budget in mind… It's time to explore the myriad options available for your kitchen extension, with experts at hand.
Consulting with a professional at this stage will likely expose you to opportunities for improvement that you'd never have contemplated. For example, if you are opting for a more open plan dynamic… You'll need to consider ventilation to ensure odours from the evening's cooking do not linger in your living space. Incorporating a solution like the BORA hob, with its innovative downdraught extractor… Is the perfect way to combat cooking smells without sacrificing headroom or storage space to a conventional overhead extractor hood.
Seeking a solution to the midweek morning madness that a busy family kitchen so often succumbs to? We can help you calm the chaos effortlessly, with the integration of a bespoke breakfast pantry. You can read more about the perks of integrating a breakfast pantry into your kitchen extension here.
As well as functionality, a designer can help to ensure that your kitchen exudes style and personality, too. In addition to conjuring up colour schemes and upgrading your cabinetry and appliances. A professionally-produced design will take into consideration the character of the existing property. This will help you to highlight existing features you adore, or contend with those that you do not.
Get in touch
We appreciate just how grand an undertaking a new kitchen extension can be. So we want to ensure you get the most out of yours. Explore multiple layouts, and draw upon our years of experience in the industry. This way you ensure no feature or function is left to chance.
If you're considering transforming your kitchen space with an extension. And you would like our help creating the kitchen of your dreams, get in touch with your team today, here.