At Watermark, we pride ourselves not only on delivering bespoke kitchens tailored to your home and designed around your lifestyle, but also on the larger-scale projects we complete in partnerships with local developers.
Our outstanding craftsmanship and creativity complements our specialist kitchen expertise: a winning formula which has enabled us to establish a good working relationship with a number of local developers, and complete a variety of projects, big and small.
Adept at creating spectacular spaces, we bring the same industry prowess, skills, and luxury finishes to the services we offer developers, as we do to individual clients' home renovation projects.
Having recently worked with Giles Homes to deliver an exclusive development of luxury apartments, we are proud to have helped create eight high spec, contemporary living spaces a mile East of Beaconsfield Town Centre.
Attentively planned and intricately designed, we knew these apartments would ooze luxury, and that the responsibility fell to us to deliver a kitchen that followed suit.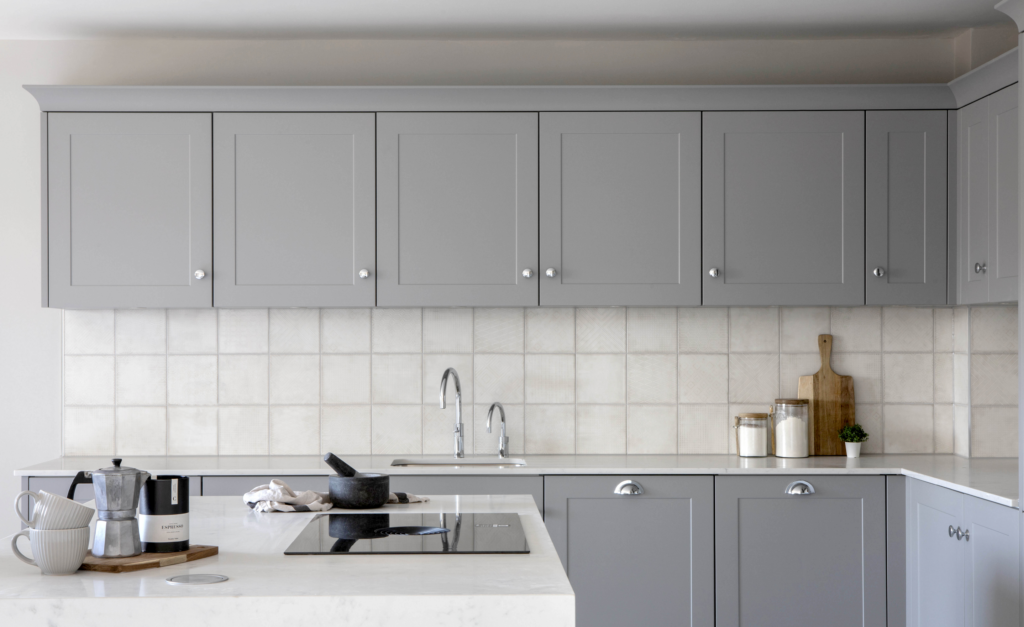 Crafted by Hacker – a kitchen manufacturer at the forefront of sustainability thanks to its fully carbon-neutral production process – the soft grey shaker doors are offset by Tuscany White Quartz worktops, and dappled marble tones throughout.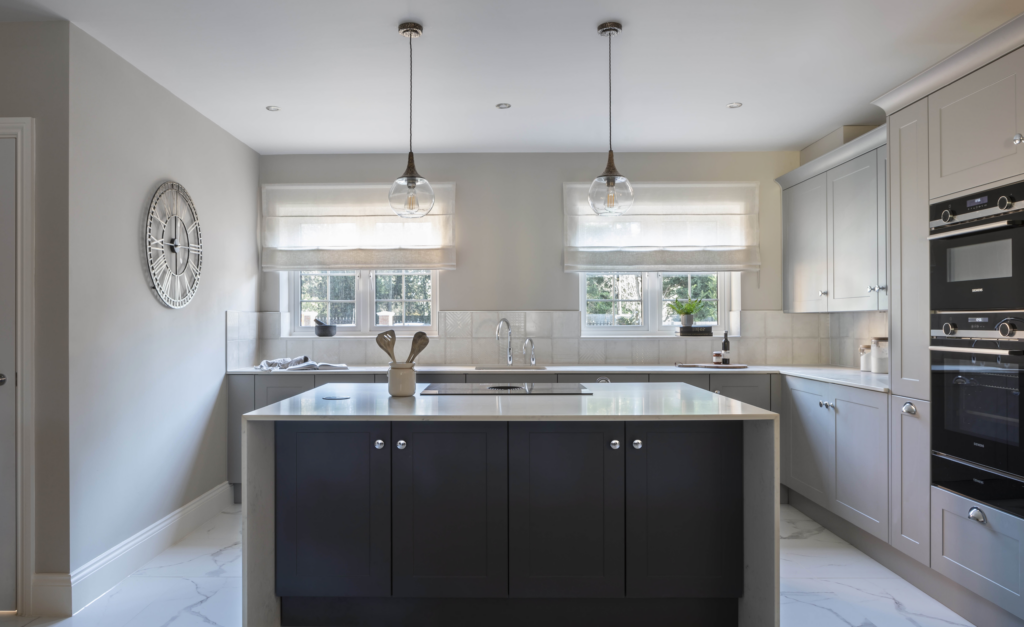 Chrome finish handles endow the space with sophistication, and enable each open plan kitchen to flow seamlessly with the rest of the living space.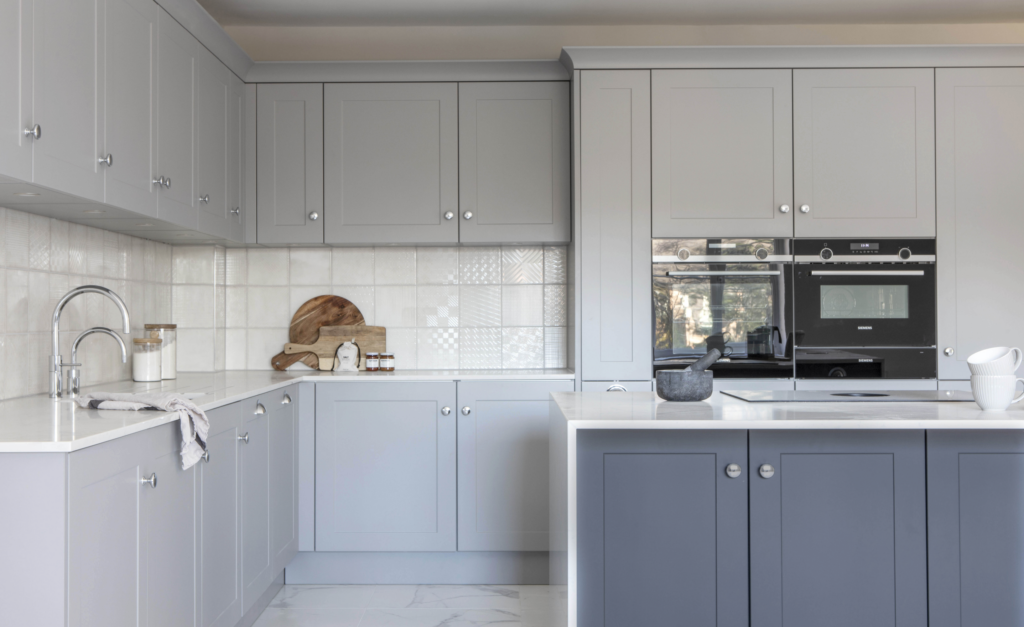 Smart storage configurations reside behind a breathtakingly beautiful facade, whilst a full range of seamlessly integrated Siemens appliances makes modern living easy and unimposing.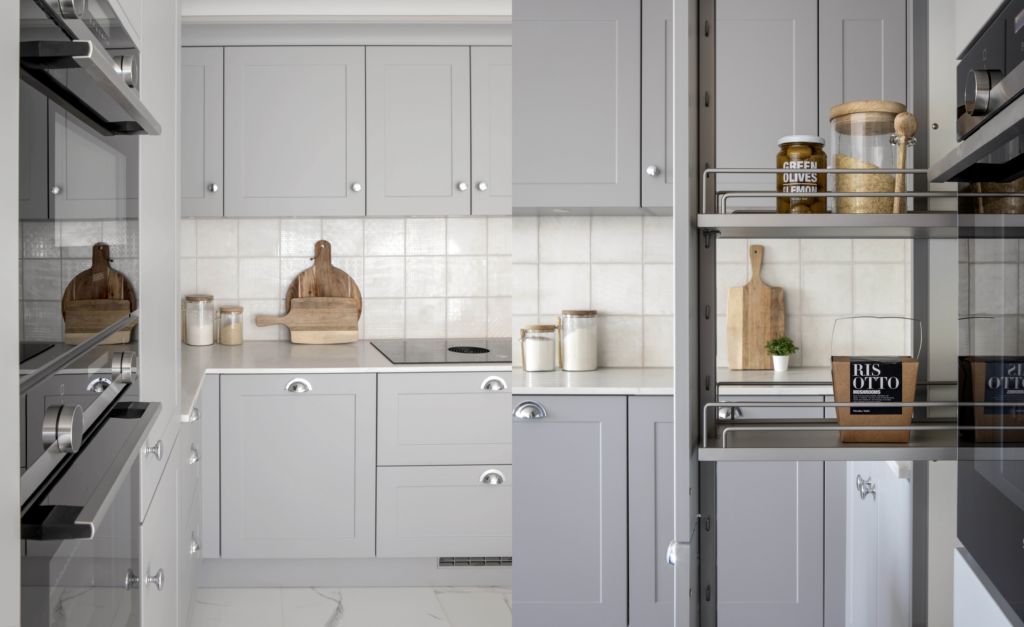 Designed with living in mind, a central island houses the BORA Pure hob – a game changer when it comes to open plan layouts. Utilising quiet extraction built into the worktop itself, the BORA hob eradicates the need for overhead extraction, freeing up valuable space, and leaving family members free to enjoy open plan socialising with ultimate ease.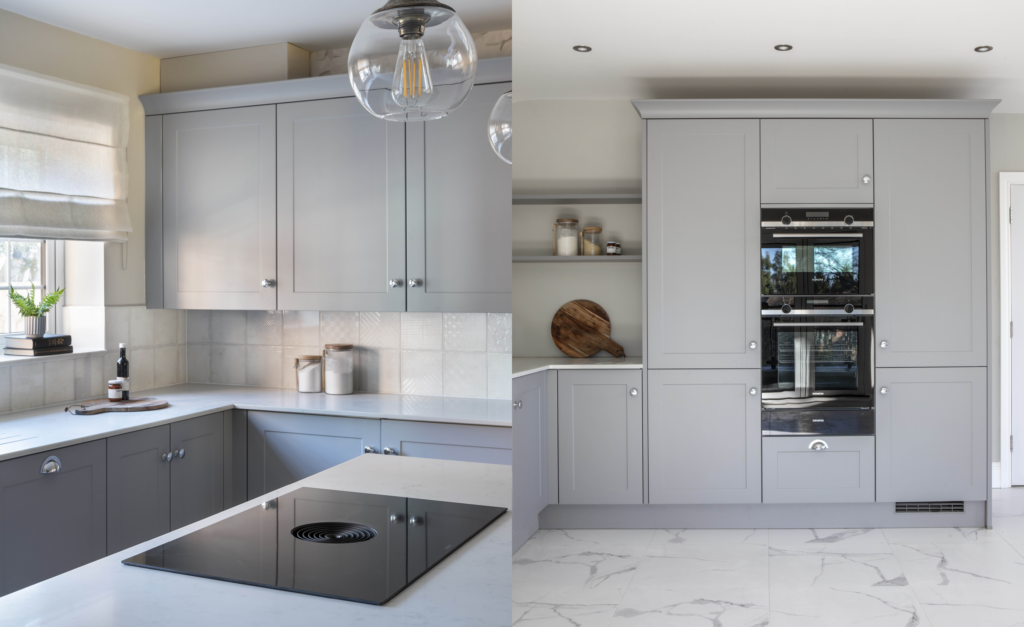 Capitalising on the reclaimed headspace with beautifully positioned feature lighting brings character and charm, as well as helping to zone the space, without the need for barriers.
Incorporating energy-efficient, waste-reducing appliances such as Quooker's boiling water tap helps to ensure this property development steers future homes towards efficiency and sustainability, without compromising on style and liveability.
Coupling the innovative brands we're proud to work with, with the exclusive materials we use to guarantee a high-quality finish, is something we deliver across development projects and single kitchen renovations alike. Helping builders bring innovative homes to market with exciting collaborations is something that the team at Watermark thrive on, which is why our services remain flexible, accessible and comprehensive.
If you'd like to discuss a development project that you believe would benefit from the creativity of our team, and the excellent standard of service Watermark are renowned for, then get in touch with us today.