When it comes to designing your dream kitchen, it's important that you create a space that provides the perfect combination of stunning visual appeal, and maximum practicality. The lighting, decor and style of the room must come together to ensure it's one everyone enjoys spending time in, whilst its flow and functionality must be optimised to deliver ease and efficiency when it comes to running and feeding the family.
As the heart of modern family life, the kitchen is responsible for a great deal – which is why when it comes to renovation, we at Watermark will leave no detail unconsidered. It's likely you've already spent some time considering the benefits and appeal of a number of worktop options… but have you thought about your upstand yet?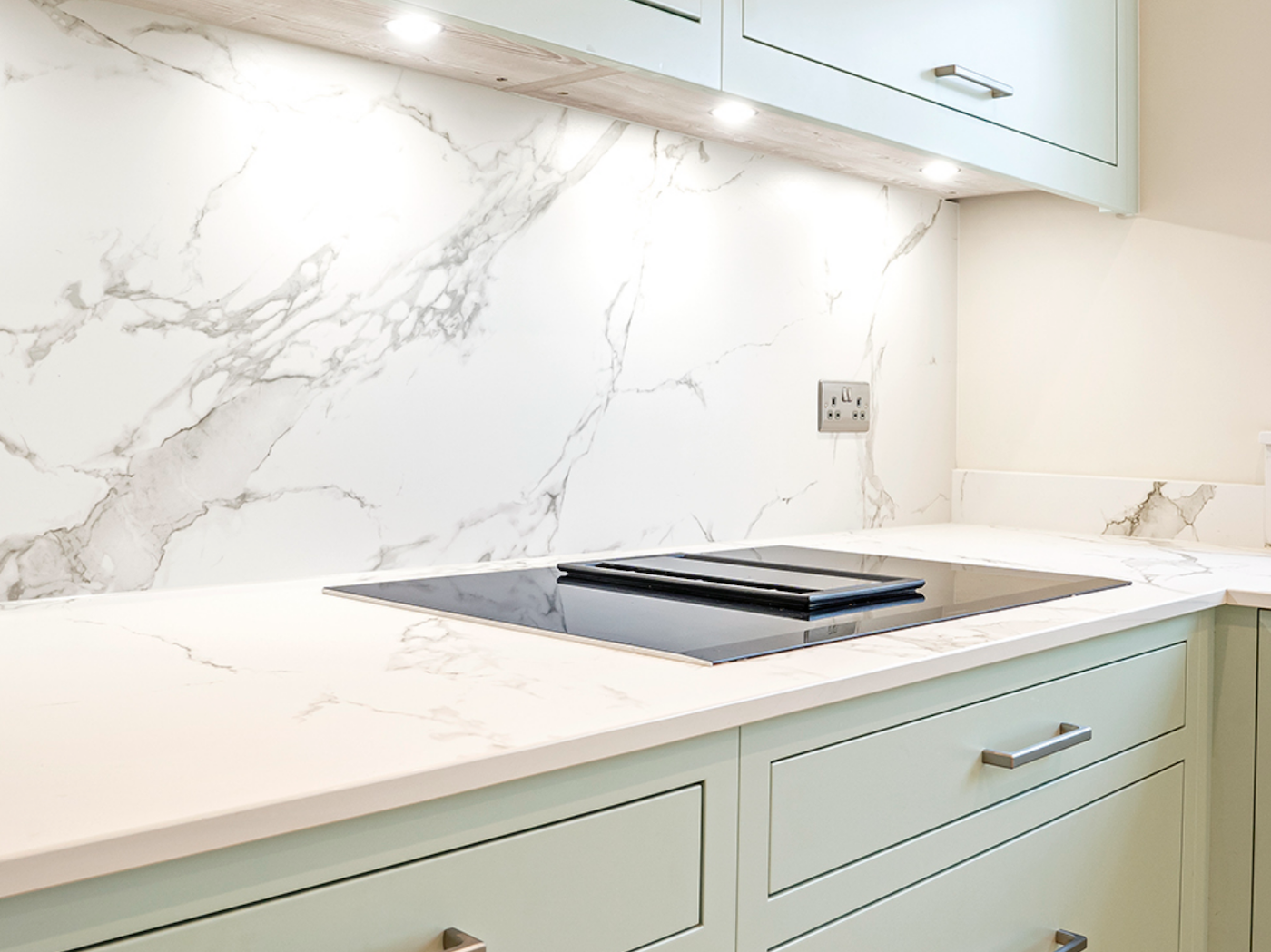 What Is A Kitchen Upstand?
A kitchen upstand is a slice of material – typically the same as that used to create the worktop – that is bonded to the wall directly above the worktop, and sealed where the two meet, to provide low-height splashback functionality.
Usually created using a thinner slice of your worktop material, and installed up to a height of around 60 to 120mm, an upstand provides an easy-clean surface to protect your kitchen walls, and make dealing with kitchen spills simple. Whilst taller or full-height splashbacks are traditionally used behind hobs and sinks selectively, the upstand will follow the entire length of your worktop, providing a visually cohesive look throughout the entire space.
Completing your kitchen worktop installation with an upstand has multiple benefits. Traditionally, a standard upstand provides a sturdy and coordinated solution to tackling day-to-day kitchen spills and splashes. As a visual extension of your worktop, it protects your wall, without imposing on your kitchen decor, and creates a reliable seal to ensure no liquids are able to permeate the space behind your new cabinetry.
Introducing The Oversized Upstand
Traditionally considered a discreet extension of your worktop, incorporated to provide functionality to your food prep area, the upstand is usually kept at a low height, so as not to take up too much visual real estate. But what if, instead of maintaining the subtlety of your upstand, you decided to make a feature of it?
After all, if you've opted for a beautiful worktop colour, doesn't it make sense to embrace it with a bold and beautiful upstand too? That's right: we're ditching subtlety… it's time to oversize.
On display in our new Amersham showroom installation, the oversized upstand is a trending concept in which the wall becomes a visual extension of the worktop far beyond the traditional height, and is topped at full height with a shelf. Not only does this provide a functional storage space – or even a space to create a decorative ornamental display – but it perfectually punctuates the upstand's splashback functionality from the wall space above.
Traditionally, kitchen wall space is reserved for lighting or wall mounted cabinetry as a means of providing additional storage – but by incorporating a shelf atop your oversized upstand, you create a second level of surface space that can be used to house utensils, tea caddies and condiments (keeping worktops clear for use) or you create the perfect place for adding decorative objects, such as candles, framed art and ornaments. Incorporating accessories like these into the kitchen helps to blur the lines between practicality and pleasure, transitioning the space from one that is purely utilitarian, to a comfortable and inviting room in which the whole family are happy to relax and spend time together.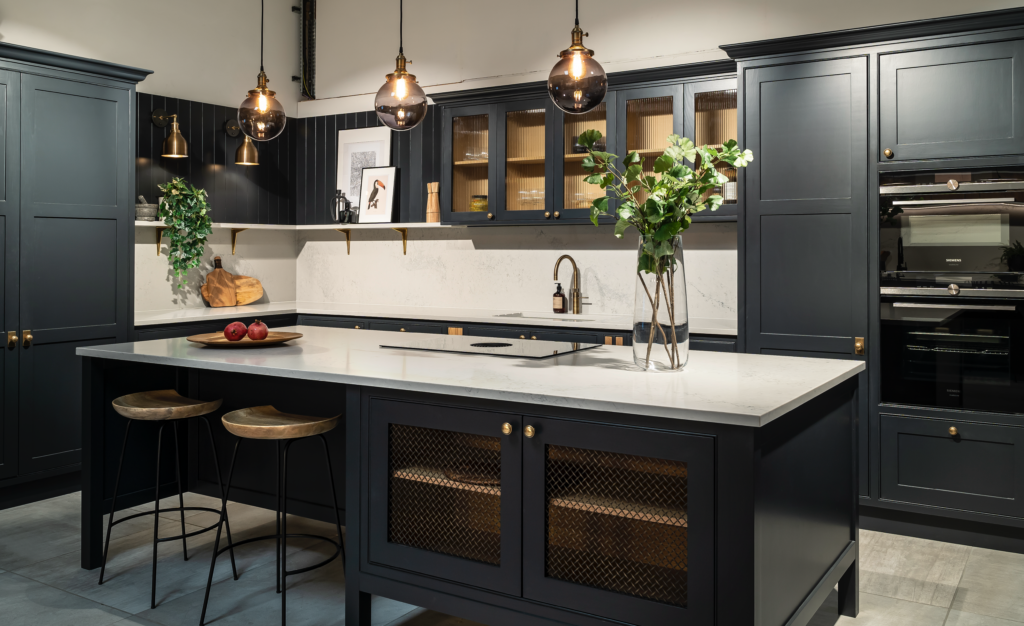 Elegance in Action: Visit Our Showroom
At our Amersham showroom, we've extended Caesarstone quartz worktops with coordinating oversized upstands, blending exquisite design with maximum durability. Available in a wide range of finishes and textures, a quartz worktop and upstand provide you with both a food prep area that's uniquely resistant to moisture and bacteria, plus a splashback functionality that is unparalleled in its ease of cleaning.
Not only that, but a stylish quartz worktop and statement oversized upstand help to magnify the elegance this luxurious material affords the kitchen space, by taking what is usually a functional necessity, and turning it into a jaw-dropping feature.
If you're looking for the perfect combination of sophistication, style and serviceability when it comes to constructing your dream kitchen design, then consider what the oversized upstand could do for you and the heart of your home.
Want to know more? Get in touch with our design team today, or arrange a visit to our Amersham showroom to see the oversized upstand in all its elegance.